President meets people in Thilippalei Welfare Centre
Posted by Editor on December 21, 2015 - 12:28 pm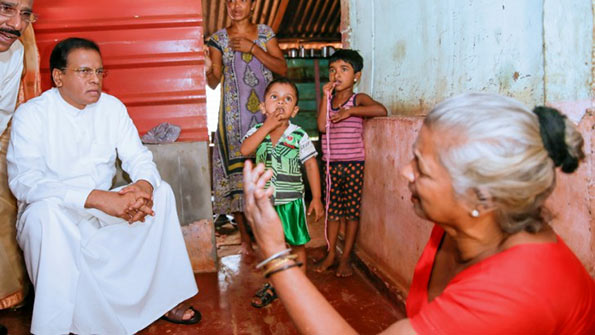 President Maithripala Sirisena visited the Thilippalei area in Jaffna district to look into the well-being of the people living Welfare Centre.
More than 1500 people from Palali , Kankesanturai and Mailadi  areas , who were displaced  due to terrorist action live in this Welfare Centre for the past 25 years and at present they are being faced with many difficulties.
The President having heard about their grievances made a sudden tour to the Centre to meet with the people living at the centre and they warmly welcomed the President at the welfare centre. The people living there requested President Sirisena to provide speedy solutions to their grievances over the past 25 years.
They further requested the President to resettle them in their places of origin as soon as possible and apprised the President regarding their sorrowful fate.
Subsequently, the President visited to a temporary shelter built at the venue and also engaged in a very cordial discussion with the residents.
State Minister- Vijayakala Maheswaran, Mr. Angajan Ramanathan MP and others participated on the occasion.
(President's Media)
Latest Headlines in Sri Lanka