President meets university Dons; Z score, higher education focus of talks
Posted by Editor on August 6, 2012 - 8:34 am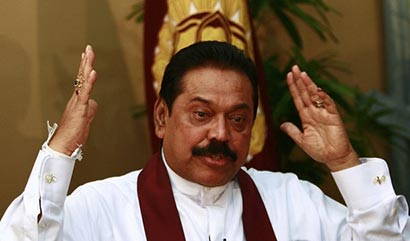 President Mahinda Rajapaksa met Vice Chancellors and Deans of universities at Temple Trees yesterday to discuss issues relating to the 'Z Score' calculations and higher education in general.
The issues relating to the calculation of the 'Z Score' of the Advanced Level students were discussed at length with focus on ensuring that no injustice would be caused to any student owing to the matter.
Legal issues pertaining to the matter, facilities and the capacity of universities when meeting such challenges too were discussed. University Dons requested the President to formulate a mechanism to ensure that the most talented and skilled students gain entry into universities.
President Rajapaksa told them the government has planned to introduce special programmes and indicators to the higher education system to ensure this.
The President expressing his views noted graduates produced through the university system should be productive in line with the country's social and economic needs. The time has come to make certain changes to the university curriculum to realise the above, he added.
President Rajapaksa said the government's aim is to produce graduates who could be creative and productive and contribute effectively to the country's economic and social progress. Higher Education Minister S B Dissanayake, Economic Development Minister Basil Rajapaksa, Attorney General Palitha Fernando, Secretary to the President Lalith Weeratunge and Treasury Secretary Dr P B Jayasundera also attended the discussions.
Courtesy: Daily News
Latest Headlines in Sri Lanka