President opens new world class port
Posted by Editor on August 6, 2013 - 8:14 am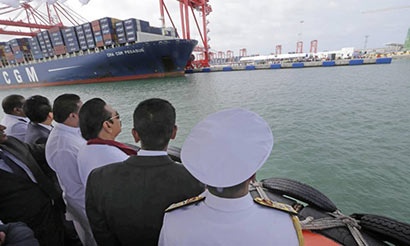 President Mahinda Rajapaksa, yesterday morning, declared open the new Colombo South Port built at a cost of US$ 500 million with an Asian Development Bank loan of $300 million and the balance from the Sri Lanka Ports Authority.
With the commissioning of the new Port, by the President, its first terminal, the South terminal built by the China Merchant Holdings International, on a 30-year Build Operate and Transfer agreement, too, went into operation. Under the agreement SLPA has a 15 per cent stake in the first terminal as well.
This new expansion to the existing Port of Colombo has brought in world class facilities and with its 18-metre draft, which can handle even the biggest Triple-E Class vessels carrying 18,000 containers.
President Rajapaksa, speaking on the occasion, said the current development, which was a good example of the government's work with the private sector, was for the next generation.
The US$ 500 million project was launched in 2006 to cater to the increasing demands of services in the international shipping industry.
The facilities at the new port will make it the only port in South Asia with deep water terminal for the mega container ships with a depth of 18 metres, compared to the old existing port's 14 to 15 metres, enabling it to handle the biggest cargo ships that require deeper docking berths.
The main terminal was built by the private sector and all three terminals, each having 1200m length and facilities to accommodate 3 berths, alongside each terminal, can handle 75 million TEU per year, says the Chairman of Sri Lanka Ports Authority Priyath Bandu Wickrama.
While the South terminal was declared open yesterday, the East terminal will be ready for operation in 2014, says the Ports Authority Chairman. All construction activities are expected to be completed by the year 2020.
Under the Colombo Port Expansion Project (CPEP) 10,000 direct and 15,000 indirect employment opportunities have been created, the government says.
The CPEP allows Sri Lanka to meet increasing demands of services in the international shipping industry in the Indian Ocean. The Colombo port, situated on a major shipping route between east and west, is a major port in the Asian region.
The general public will be allowed to visit the Colombo South harbor from August 8 -13.
(Courtesy: The Island)
Latest Headlines in Sri Lanka