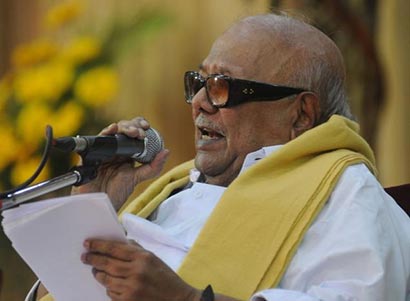 The DMK has made the Centre's response to its demand for boycotting the Commonwealth Heads of Government Meeting (CHOGM) central to its dealings with the Congress.
"Our party chief M Karunanidhi has asked the government to boycott the November conference of CHOGM. We cannot have normal relations with a government that is insensitive to the demands of Sri Lankan Tamils," DMK spokesman and MP TKS Elangovan told ET.
Elangovan also cited protests from countries including Australia against holding the meeting in Colombo to drive home his party's point that several countries are uneasy with the conduct of the Sri Lankan government. Lankan president Mahinda Rajapaksa will remain as head of Commonwealth for two years and there could be problems in initiating a probe against him for war crimes," Elangovan said.
With the alleged atrocities against Lankan Tamils becoming an emotive issue in Tamil Nadu, the DMK is finding it difficult to associate itself with the Congress, which has been resisting its ally's attempts to intervene in the Centre's foreign policy.
The AIADMK has raised the stakes high for the DMK by getting the state assembly to pass a resolution asking the Centre to stop treating Sri Lanka as a friendly nation. Although the Centre rejected this demand, the AIADMK managed to make it stance clear on an issue that has considerable traction in the state.
"We will lose heavily if we are seen to be backing the Centre's stand," said a DMK leader, who did not wish to be named. He repeated Elangovan's stand that the DMK could deal with the Congress only if the Centre agreed to take an aggressive position against Colombo.
DMK's Elangovan also attacked DMDK chief Vijayakanth for not backing its efforts to corner the J Jayalalithaa government in the state. "Six DMDMK MLAs have left the party to join the AIADMK. But Vijayakanth is not able to perform the role of an effective opposition," he said.
With the Left keen to join forces with the AIADMK, an alliance against Jayalalithaa would require major concessions against the government. But the stated position of the Centre is against accepting the demand for imposing sanctions against Sri Lanka and treating the neighbour as anything but a friend. (Source: Economic Times)