President opens SLFP political academy
Posted by Editor on March 20, 2017 - 6:57 am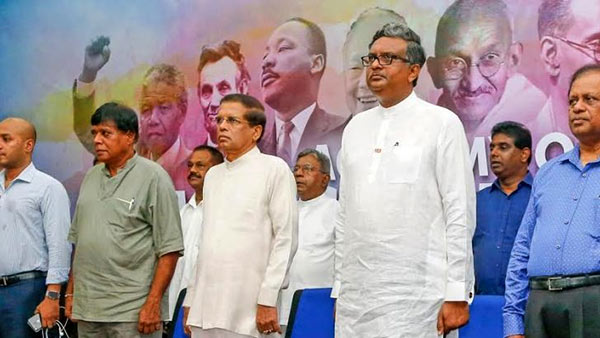 "The country needs not the politicians who say 'yes' for everything, but young politicians who say 'that is not the way, this is the correct path", says President Maithripala Sirisena.
The president was speaking at the opening ceremony of 'Deshapalana Shasthralaya' (political academy), inaugurated by the SLFP Youth Front yesterday (March 19) at the SLFP Headquarters.
"There is no need for songs of hosannas for the government in the future. This academy is for a political movement which will act with knowledge, wisdom and understanding", he said.
"The main challenge against building of a pure political movement is that the politicians don't have enough experience. All young politicians of the SLFP should know about the way of the party which had many ups and downs", the President said.
He pointed out that any corrupter can wear white clothes and win elections due to the preferential vote system. "The breakdowns of the political parties and the worshipping for personalities in this political system can be changed only through the knowledge and understanding", he said.
"The SLFP was born by fulfilling the requirement of a patriotic force which admires the nationalism, our own values and Sri Lankan culture. Since its foundation, the SLFP is moving forward as a strong political party with a correct policy and philosophy", the President pointed out.
"The SLFP should be taken forward for honest and clean political movement. The party has come along a strong path for last two years. The women and young organizations of the party are now operating successfully", he stated.
"Nobody can move forward as a political movement without a correct philosophy, policy and program", the President said.
The Deshapalana Shasthralaya was established with the objective of creating clean politicians in the future. After the completion of three months course it offers certificate of international recognition.
The President said there were many discussions about establishing of this academy las few decades. And he expressed his satisfaction over the establishment of this under his leadership.
The president offered registration cards for the first three students of the academy. The 'Nidahas' newspaper was presented to the president at this occasion.
Ministers Mahinda Samarasinghe, Susil Premajayantha, Faizar Mustafa, Generala Secreatry of the SLFP Minister Duminda Dissanayake, President of the SLFP youth Front Shantha Bandara and its Secretary Erick Prasanna Weerawardana were among those participated in this event.
(President's Media)
Latest Headlines in Sri Lanka