President places Sacred Relics in stupa to honour fallen War Heroes
Posted by Editor on June 24, 2013 - 7:54 am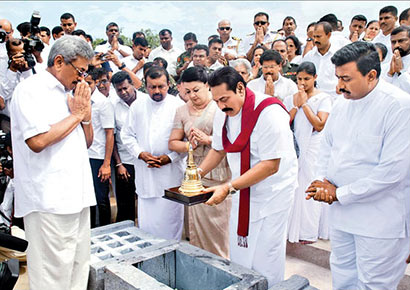 President Mahinda Rajapaksa yesterday placed the Sacred Relics of the Buddha in the Sanda Hiru Seya Stupa being constructed in Anuradhapura, dedicated to War Heroes who made the supreme sacrifice on behalf of the nation. The Sanda Hiru Seya close to the Sacred Jaya Sri Maha Bodhi is the first of nine such Stupas to be built in the nine provinces in honour of fallen War Heroes.
The Sacred Relics were received from Chittagong, Bangladesh. This endeavour is a concept of Defence and Urban Development Ministry Secretary Gotabhaya Rajapaksa. The Sanda Hiru Seya, only second to the Ruwanweli Maha Seya in size and extent, will be about 40-50 ft deep below the ground level, 279 feet in height, 255 feet in diametre and 801 feet in circumference. The Stupa to be completed within three years, needed more than 30 million bricks, 130,000 bags of cement, 9.5 million kgs of lime, and 70,000 of granite cubes. On arrival at Sanda Hiru Seya, President Rajapaksa was received by the North Central Province Chief Minister, Tri-Service Commanders, IGP, coordinator of the project, Major General (retd) Palitha Fernando, Military Liaison Officer at the Defence Ministry and a large gathering of civilians and school students.
The President also participated in several religious activities at the sacred city of Anuradhapura held to mark Poson Poya.
Poson which marks the historic advent of Buddhism following the arrival of Arahat Mahinda in the island is celebrated in Anuradhapura annually with many religious activities. President Rajapaksa in the morning offered heel dana to devotees observing sil at the Jaya Sri Maha Bodhi. He also worshipped the Jaya Sri Maha Bodhi with chief incumbent of the Atamasthana Most Venerable Dr Pallegama Siriniwasa Thera conducting religious observances.
The President paid homage at the Ruwanweli Maha Seya where chief incumbent of the Ruwanweliseya, Ven Pallegama Hemarathena thera was also present. At the same location, he distributed sil cloth to devotees observing sil at the premises. He also spoke with the devotees who had thronged the site in vast numbers.
The Maha Sanga headed by Chief Incumbent of Atamasthana, Dr Pallegama Siriniwasa Thera, Chief Incumbent of the Ruwanweli Maha Seya Ven Pallegama Hemarathana Thera, Dr Welamitiyawe Kusaladamma Thera, NCP Governor Karunaratne Divulgane, Defence and Urban Development Ministry Secretary Gotabhaya Rajapaksa, Chief Minister S. M. Ranjith Samarakoon, Ministers Tissa Karalliyadde, Duminda Dissanayake, Deputy Ministers S. M. Chandrasena, W. B. Ekanayake, MP Sehan Semasinghe, Provincial Council member H B Semasinghe, Secretary to the President Lalith Weeratunge and Chief of Presidential Staff Gamini Senarath were also present.
(Courtesy: Daily News)
Latest Headlines in Sri Lanka