President Rajapaksa and First Lady Begin Four-Day State Visit in Kenya
Posted by Editor on December 12, 2013 - 6:40 am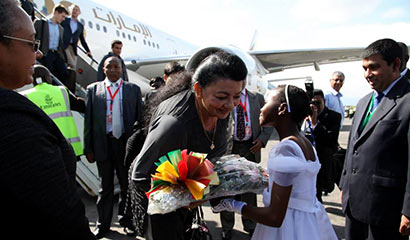 President Mahinda Rajapaksa arrived in Nairobi, Kenya, this evening, beginning a four-day state visit.
At the Jomo Kenyatta International Airport, the President was received by Kenya's President Uhuru Kenyatta, Deputy President William Ruto and Cabinet Secretary Ministry of Foreign Affairs and International Trade Amina Mohamed and welcomed with a Guard of Honor.
On Thursday, President Rajapaksa will attend Kenya's Independence Day festivities that will take place at the Moi International Sports Complex (MISC) in Kasarani on the outskirts of Nairobi. Kenya achieved its independence from the British in 1963, and this year's jubilee celebrations are expected to be the largest in 50 years with a number of world leaders expected to attend.
The two presidents will hold bilateral talks at the State House on Saturday (Dec. 14). Sri Lanka and Kenya are expected to sign a number of agreements in sectors such as trade, tourism and cultural cooperation, among others.
President Rajapaksa is also scheduled to visit the United Nations Office at Nairobi (UNON), the U.N headquarters in Africa. It is the second largest United Nations complex outside of New York. During this meeting, the President will hold discussions with the UNON Director General Mrs. Sahle-Work Zewde and the heads of the United Nations Environment Program (UNEP) and UN-Habitat based in Kenya.
During the visit, President Rajapaksa will also attend the Sri Lanka Business Forum, meet with the Kenyan business community and attend the 10th anniversary celebration of the Kenya Private Sector Alliance.
Among the other events in which President Rajapaksa will participate include attending a state banquet hosted by President Kenyatta in honor of President Rajapaksa and the First Lady, laying a wreath at the Mausoleum of Late President Jomo Kenyatta and visiting the Nairobi Buddhist Temple.
President Rajapaksa is accompanied by First Lady Shiranthi Wickremasinghe Rajapaksa. The First Lady who arrived this evening from Sri Lanka was welcomed by Kenya's First Lady Margaret Kenyatta. This is the President's second visit to the country. The last visit to Kenya was in 2000 to attend the first session of the Preparatory Committee for the Special Session of the U.N. General Assembly on the Habitat Agenda.
Minister of External Affairs Prof. G.L. Peiris, Minister of Civil Aviation Mr. Geethanjana Gunawardena, Chief Minister of the Uva Province Mr. Shashindra Rajapaksa , Monitoring MP of the Ministry of External Affairs Mr. Sajin De Vass Gunawardena and Secretary to the President Mr. Lalith Weeratunga comprises the Sri Lanka delegation.
(Courtesy: President Media)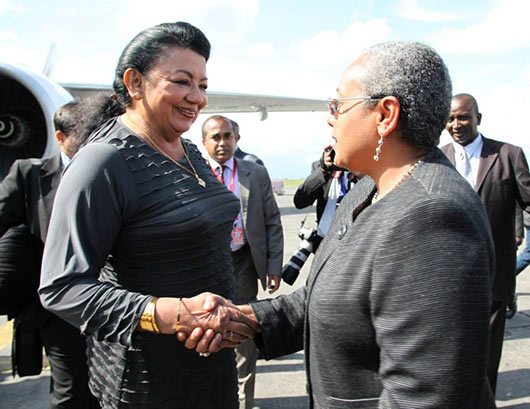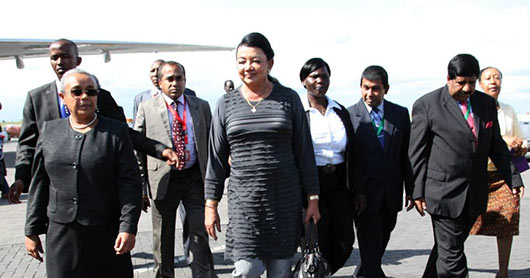 Latest Headlines in Sri Lanka