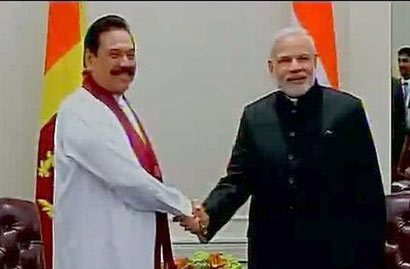 NEW YORK: President Mahinda Rajapaksa and Indian Prime Minister Narendra Modi held bilateral discussions this morning in New York City and agreed to work towards further strengthening relations between the two countries.
In a cordial discussion, the two leaders spoke about a range of matters of mutual interest to the two countries.
Regarding the recent meeting the Indian leader had with Sri Lanka's Tamil National Alliance (TNA), the Prime Minister informed President Rajapaksa of the discussion that took place with the group. In that context, Prime Minister Modi acknowledged the importance of the Parliamentary Select Committee (PSC) process.
President Rajapaksa explained to Prime Minister Modi that the Government has always been ready to engage in talks with all political parties, including the TNA, for which a mechanism has been established in terms of the PSC.
The President also briefed the Prime Minister on the ways in which the Government is assisting the Northern Province, particularly with the financial resources in the amount of Rs. 1.5 billion that has been made available in this year's budget.
On the issue of fishermen, both leaders agreed that the matters must be handled carefully since there are sensitivities among all concerned parties. President Rajapaksa reiterated his concerns about the practice of bottom trawling.
"Bottom trawling is the biggest problem," President Rajapaksa said. "Now it is an illegal practice. We have banned bottom trawling for Sri Lankan fishermen. It's creating permanent damage to the sea bed and resources."
The President explained that Sri Lankan fishermen in the North perceive it as unjust if Indian fishermen are permitted to carry out bottom-trawling techniques while it is banned for Sri Lankan fishermen.
President Rajapaksa also thanked Prime Minister Modi for India's support and constructive initiatives at the United Nations Human Rights Council (UNHRC) in Geneva.
"We have to live together, so we must help each other," Prime Minister Modi said in response.
Minister of External Affairs Prof. G.L. Peiris, Minister of Irrigation and Water Resources Management Mr. Nimal Siripala de Silva, Monitoring MP of the Ministry of External Affairs Mr. Sajin de Vass Gunawardena, Secretary to the President Mr. Lalith Weeratunga, Secretary to the Ministry of External Affairs Mrs. Kshenuka Senewiratne and the Deputy Permanent Representative of Sri Lanka to the United Nations Maj. Gen. Shavendra Silva were also present.
(President Media)