President Rajapaksa arrives in Belarus
Posted by Editor on August 26, 2013 - 7:39 am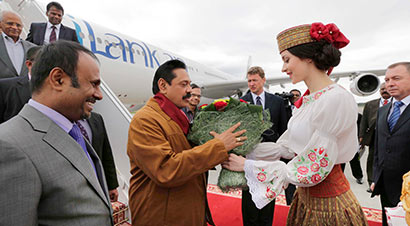 – by Janaka Alahapperuma – Pix By: Sudath Silva
President Mahinda Rajapaksa arrived in Belarus this afternoon on August 25, on a three-day official visit to the East European nation. On his arrival the President was warmly received according to the Belarus traditions at the Minsk National Airport by the Belarus Minister of Foreign Affairs, Vladimir Makei. Sri Lankan Ambassador to the Russian Federation accredited to Belarus, Udayanga Weeratunga was present at the airport.
President Rajapaksa's visit to Belarus is the first by a Sri Lankan head of state to the former Soviet Union country, which became independent in 1991.
A landlocked country of approximately 207,000 square kilometers, Belarus shares borders with Russia, Latvia, Lithuania, Poland and Ukraine. The majority of the nearly 10 million population lives in urban areas while the capital city of Minsk is home to about a fifth of the nation's population.
President Rajapaksa will hold bilateral talks with his counterpart, the President of Belarus Mr. Alexander Lukashenko, and Prime Minister Prof. Mikhail Myasnikovich during his three day stay in Belarus. Other bilateral meetings will take place with the Chairman of the Council of the Republic of the National Assembly of Belarus Mr. Anatoly Rubinov and the Chairman of the House of Representatives of the Belarus National Assembly Mr. Vladimir Andreichenko.
The Belarus-Sri Lanka Business Forum will take place to coincide with the visit of President Rajapaksa who will be accompanied by a delegation of businessmen to attend the Forum where the President will be making a speech along with Prime Minister Myasnikovich. The forum, scheduled to take place August 26 at the National Library of Belarus in Minsk, will provide an opportunity for business men and women from both countries to interact and network. A variety of sectors including tourism, banking, agriculture and textiles, among others, will be represented at the forum. In addition to the political and trade engagements, President Rajapaksa will also visit an automobile plant in Minsk.
Meanwhile Sri Lankan Embassy in Russia accredited to Belarus has organised many cultural and traditional dancing events called 'Mega Tourism Caravan' an awareness campaign prior to the President's visit to promote Sri Lanka tourism under the theme "Sri Lanka- Wonder of Asia" in major shopping malls in the Belarus capital city, Minsk.
The Minister of External Affairs Prof. G.L. Peiris and Secretary to the President, Lalith Weeratunga are accompanying the President on the visit.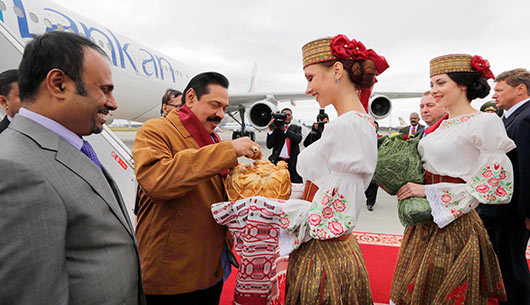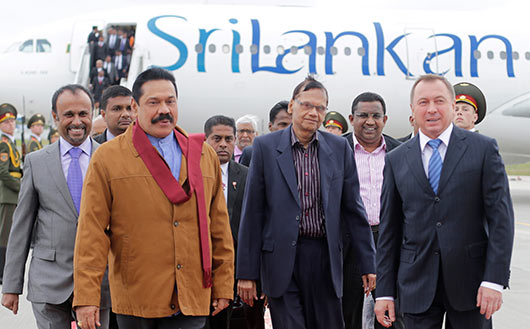 Latest Headlines in Sri Lanka