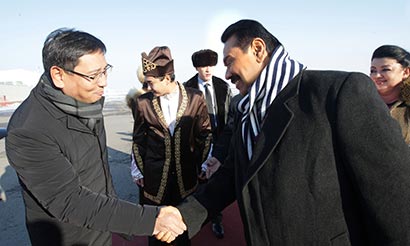 By Janaka Alahapperuma – Pix by: Sudath Silva
President Mahinda Rajapaksa arrived in Astana, Capital of Kazakhstan this afternoon on 19 November for a three day visit. He was invited by Kazakh President Nursultan Nazarbayev for a state visit to the country.
Sri Lankan President accompanied by First Lady Shiranthi Rajapaksa was warmly welcomed by the Kazakhstan Minister of Economic Development and Trade Yerbolat Dosayev at the Astana International Airport. Sri Lankan Ambassador for Russia, Udayanga Weeratunga who is also accredited to the Republic of Kazakhstan was at the airport to receive the Sri Lankan delegation.
President Rajapaksa's first visit to Kazakhstan comes when both countries are celebrating 20 years of diplomatic relations. Sri Lanka established diplomatic relations with Kazakhstan on June 1992 after Present Kazakh President Nazarbayev came to power in April 1990.
During the stay, President Rajapaksa will hold bilateral talks with the President and the Prime Minister of Kazakhstan. Two presidents are to discuss the problems of political and commercial and economic cooperation between the two countries as well as to exchange views on relevant issues of international policy and security.
Official spokesperson for the Central Communications Service for Kazakhstan, Altai Abibullayev confirmed an agreement on cooperation in the sphere of tourism and a memorandum on mutual understanding between the Kazakh Chamber of Commerce and Industry and the Ceylon Chamber of Commerce of Sri Lanka will be signed following the top-level bilateral discussions in Astana. President Rajapaksa is also schedule to address Nazarbayev University in Astana.
In last May, Sri Lanka and Kazakhstan signed a Memorandum of Understanding to expand the bilateral relations between the two countries and hold regular consultations between the Ministries of External Affairs of Sri Lanka and Foreign Affairs of Kazakhstan.
In 2011, trade between the two countries amounted to $7.1 million. Trade turnover reached $5.7 million in January to August 2012.
Sri Lankan delegation to Kazakhstan included External Affairs Minister Prof. G. L. Peiris, Chief Minister of Uva Province Sashendra Rajapaksa and secretary to the President Lalith Weeratunga.