President Rajapaksa calls on Indian Premier Manmohan Singh
Posted by Editor on September 21, 2012 - 6:49 am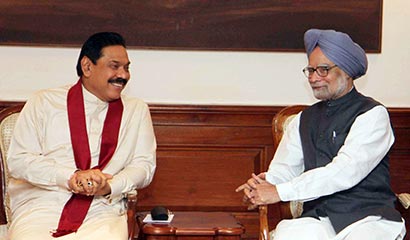 Onlanka News – By Janaka Alahapperuma
(Pix by: Nalin Hewapathirana)
President Mahinda Rajapaksa who is in India on a three day state visit primarily to lay foundation stone for the International University of Buddhist Studies in the historically important city of Sanchi in Madhya Pradesh held comprehensive deliberations with Prime Minister Dr Manmohan Singh on Thursday evening.
It was the first meeting between the two parties after India voted in favour of U.S. backed resolution on Sri Lanka at the United Nations Human Rights Council (UNHRC) Geneva sessions in March.
Prime Minister Singh raised the issue of devolution of powers so that Tamil citizens of Sri Lanka can look forward to a future where they can live with dignity and respect. In his response, President Rajapaksa noted that elections had been held in three provinces and administrative and other steps were underway to hold elections in the Northern Province near future.  The President talked about various successful steps taken by the government to rehabilitate and resettle displaced people as also in dealing with the ethnic issue. Prime Minister Singh requested to fast-track the rehabilitation of war-displaced Tamils in Sri Lanka and also asked to speed up finding a lasting solution to the ethnic issue.
In the backdrop of arrest and alleged harassment of Indian fishermen by Sri Lanka Navy, PM emphasised on the need to treat fishermen humanely in cases where they may stray across maritime boundary on both sides. Two leaders agreed it would be best for fishermen's associations to meet and discuss these issues further.
President Rajapaksa said that the relationship between the two countries that goes back to centauries should not be tarnished by petty incidents. The President also thanked PM for the Kapilavasthu relics expositions in Sri Lanka where more than 3 million people paid their respects. During the meeting both sides discussed key bilateral issues and reviewed all matters of mutual interest, the Government Information Department reported.
Prime Minister Dr Manmohan Singh also hosted a private dinner, which was attended by a select number of guests, for the visiting dignitary.
Meanwhile pro Tamil Tiger elements in Tamil Nadu infuriated by the vanquishing of Tiger terrorism have planned protests and black flag demonstrations against the President's visit. Certain politicians and political parties strongly supportive to LTTE terrorism in Tamil Nadu are also demanding for the cancellation of the visit. An Indian has already self immolated and died in protest against President Rajapaksa's Indian visit.
The pro-LTTE Tamil party Marumalarchi Dravida Munnetra Kazhagam (MDMK) leader Vaiko and his convoy of buses carrying hundreds of supporters had left Tamil Nadu. They have been stopped at Pandhurna on Maharashtra-Madhya Pradesh border in Chhindwara district by the police when they tried to enter the Madhya Pradesh on Wednesday morning. LTTE ardent supporter Vaiko vowed to stage a black flag protest in Sanchi to show opposition to President's visit. He attacked the central government and the BJP-led Madhya Pradesh government for inviting the Sri Lankan President.However Nearly half a dozen MDMK supporters were already detained at Salamatpur near Sanchi as a precautionary measure. The Indian government said that it would not allow baseless protests by Vaiko and his followers in Sanchi.
Indian Janatha Party leader Dr. Subramanian Swami said that the arrival of President Mahinda Rajapaksa is an honor to India. Expressing his views to the media he said that protests by certain groups were baseless and Indians would welcome the Sri Lankan president as a hero. Dr. Swami further said that he hope that one day India's highest honour, "Braratha Rathna" would be bestowed on the President Rajapaksa. India also suffered immensely due to LTTE terrorism. Defeating of the LTTE would be instrumental in bringing peace not only to Sri Lanka but also to the Asian region. Dr. Swami pointed out that Asia should be grateful to the Sri Lankan President who pioneered to bring peace to the region.
Sri Lankan High Commissioner in India Prasad Kariyawasam pointed out that the tour shows the warm relations and friendship between the two countries and the Asian region. He added that India and Sri Lanka have a historic relationship and no external forces could break such a strong relationship.
However, the Indian government has provided full security to President Rajapaksa's state visit. External Affairs Minister Prof. G. L. Peiris, Parliamentarian Sajin Vass Gunawardena, Secretary to the President Lalith Weeratunga and Secretary to the Ministry of External Affairs Karunathilaka Amunugama were present at the occasion.

Latest Headlines in Sri Lanka