President Rajapaksa inaugurates National Tree Planting Campaign 2011: "Harithaka Ratak- Deyata Sethank"
Posted by Editor on November 16, 2011 - 9:14 am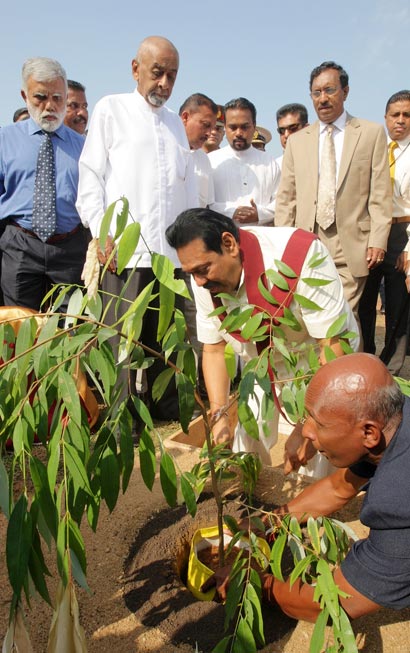 Onlanka News – By Janaka Alahapperuma
(Pix by: Sudath Silva)
President Mahinda Rajapaksa inaugurated the second phase of the National Tree Planting Campaign-2011: 'Haritha Ratak – Deyata Sethank' this morning on 15 November at the botanical garden on the Sri Lanka-Japan Friendship Road in Battaramulla. The Environment and Natural Resources Ministry has organised many projects island wide to plant more than one million trees as part of the national tree planting day.
The main ceremony took place under the patronage of President Rajapaksa at the newly constructed seven acre botanical garden adjoining to the Janakala Kendraya near Diyawanna Oya in Battaramulla this morning at 9.01 a.m. The President planted a Naa tree (Mesua Ferrea) to mark the occasion. It is planned to plant 1.1 million trees island wide with a novel project of establishing a Green Park in Colombo suburb. The Programme is being implemented in connection with the President's Birthday and the second anniversary of assuming duties in the post of Presidency.  It was commenced last year to mark the occasion of the second term in office and the 65th birthday of President Mahinda Rajapaksa.
Addressing the gathering President Rajapaksa said the programme to plant 1.1 million plants begins today and it is a noble investment for future generations and children of tomorrow.  The trees planted by our forefathers are today providing shelter to us. Day by day the entire world is facing climatic changes.  Certain countries are confronting many problems as a result of engaging in the development concept disregarding environmental concerns. The real owner of the country is a person who plants a sapling with his or her own hands.  The genuine inheritors of the country are those who love the fauna and flora, the President further added.
Environment Minister Anura Priyadarshana Yapa said that the second phase of the national tree planting programme which is implemented throughout the island today carrying out on the government and private institution level. Last year 2.9 million plants were planted within a period of 20 minutes and 2.1 million out of these plants still remain in good condition. He said plans were underway to plant indigenous trees and medicinal plants countrywide by November 18 to mark the President's birthday. Plants are categorized and distributed according to the climatic conditions and the necessity of the zones. However the success of the implementation and continuation of this kind of programmes lies largely on the initiatives taken by the common people, the Minister further added.
Maha Sangha, Religious Dignitaries, several Cabinet Ministers, diplomats, staff of the Ministry of Environment and other authorities and large number of school children also attended the ceremony.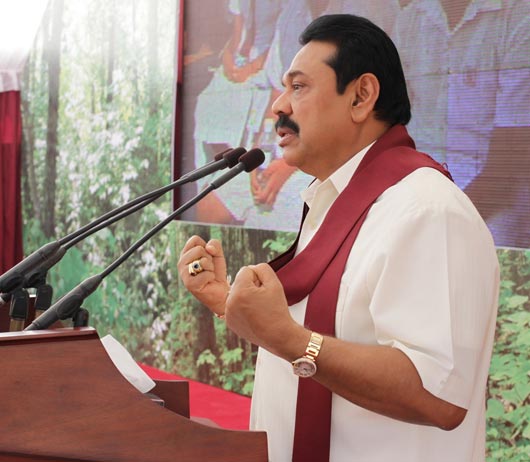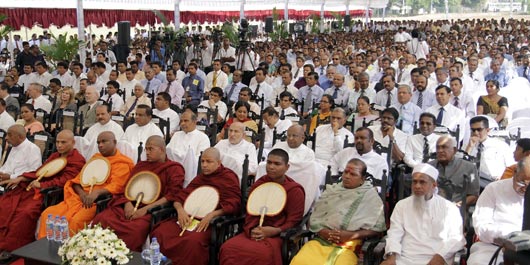 Latest Headlines in Sri Lanka