President Rajapaksa on Mandela: "An Eternal Legacy in the Hearts and Minds of all Humankind"
Posted by Editor on December 6, 2013 - 10:16 pm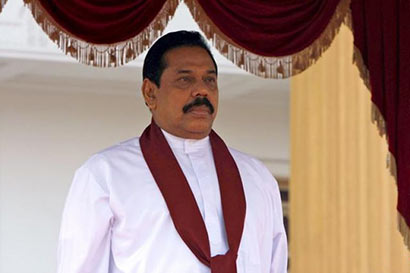 President Mahinda Rajapaksa, in a letter to the South African President Jacob Zuma has expressed condolences on behalf of the Sri Lankan people on the death of former South African President Nelson Mandela. Please find below the complete text of the message.
************************************************
His Excellency Jacob Zuma
President of the Republic of South Africa
Excellency,
I was deeply saddened to learn about the demise of Mr Nelson Mandela, former President of South Africa, the great leader of the struggle for freedom and a hero to millions around the world. The late leader inspired the South African people with patriotism by courageously leading them to achieve independence with ethnic harmony. His lifelong dedication and compassion for ensuring human dignity, justice and freedom in South Africa, undoubtedly is an eternal legacy in the hearts and minds of all humankind.
His brave leadership to the South African independence struggle was exemplary, legendary and inspirational for the peace loving people all over the world. The late President Mandela, dignified in manner and committed to a just cause, was a profound icon of peace and a beacon of light for freedom.
The legacy of peace the late President Mandela established, and the philosophy of life he exemplified have been a great inspiration for those of us in Sri Lanka who, for many years, strived for peace. His life and philosophy have deeply inspired me and I consider President Mandela's demise a great loss to me personally.
At this sorrowful moment, on behalf of the Government and people of Sri Lanka, I extend profound condolences, through Your Excellency to the members of the bereaved family and the South African people.
The Government and people of Sri Lanka stand together with me in solidarity at this difficult hour as your country mourns the passing away of a great leader of South Africa.
Please accept, Excellency, the assurances of my highest consideration.
Mahinda Rajapaksa
President of the Democratic Socialist Republic of Sri Lanka
(Courtesy: President Media)
Latest Headlines in Sri Lanka