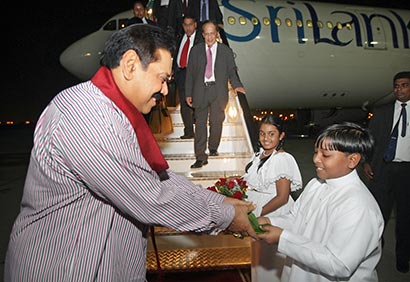 Onlanka News – By Janaka Alahapperuma
(Pix by: Sudath Silva)
President Mahinda Rajapaksa visited Dubai to attend the World Energy Forum-2012 which will be held at International Convention and Exhibition Centre in Dubai, in the United Arab Emirates (UAE) from 22 to 24 October.
The World Energy Forum was formed in 2008 to use energy for sustainable development without causing environmental damage. So far two conferences of this Forum have been held at the UN headquarters with the participation of leaders of the energy sector and heads of state. This is the first time that this high-level International Energy Conference will be taking place outside the UN headquarters.
According to a press release issued by the UAE, the World Energy Forum has chosen Dubai as a venue to host this year's three day event, because of Dubai's geographic and strategic location and the political stability of the United Arab Emirates. Its being a global hub for finance, business, trade, tourism and very popular holiday destination in today's world.
Over 2,000 delegates, including 22 Heads of States are expected to attend the World Energy Forum 2012. One of the primary objectives of this conference is to table a road map for a sustainable energy mix that can fuel global economic and social development.
The United Nations has designated 2012 as the International Year of Sustainable Energy for All. At the Forum, leaders will seek tangible progress towards cleaner, safer and more sustainable energy as well as achieving universal access to modern energy services. The forum provides a unique opportunity to exchange new ideas on global energy issues from the perspectives of policy, technology, and business.
A separate conference of the First Ladies will also be held simultaneously. First Lady Shiranthi Rajapaksa will represent Sri Lanka in that forum.
External Affairs Minister Prof. G.L Peiris, MP Sajin Vaas Gunawardena, Western Provincial Councilor Noufer Fouzie and Secretary to the President Lalith Weeratunga are accompanying the President on the visit.
Sri Lanka's Ambassador to the UAE Sarath Wijesinghe, Consul General of Dubai M. Abdul Raheem, UAE government officials and members of the Sri Lanka Embassy were also present to welcome the President and the Sri Lankan delegation at the airport.