President raps Basnayake for endorsing Gotabhaya's action
Posted by Editor on January 23, 2015 - 6:45 am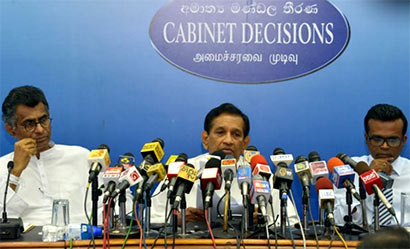 President Maithripala Sirisena has asked new Defence Secretary B.M.U.D. Basnayake to explain why the latter endorsed predecessor Gotabhaya Rajapaksa's actions pertaining to a bank account and a floating armoury.
Health Minister Senaratne, responding to questions by a group of journalists at his first Cabinet Press Briefing in Colombo, as Government Spokesman, said that the President had earlier this week questioned the Defence Secretary over his comments approving Gotabhaya's conduct.
Basnayake had already submitted his explanation to the President and the matter sorted out in a manner that such blunders would not occur in the future, the minister added.
Senaratne emphasised that it was wrong for Gotabhaya to have maintained an account at Bank of Ceylon in the name of the Defence Secretary with a balance of around Rs. 8 billion meant for the ongoing construction of the new Defence complex at Palawatte, Battramulla.
The funds should have been deposited in the name of the Treasury and withdrawn according to accepted Financial Regulations as and when required for construction purposes, he noted.
Similarly, even the floating armoury detected at the Galle Harbour was illegal since it was manned by a private firm, the Minister said, adding that the business of selling fire arms and ammunition was the responsibility of the State and could not be handed over to private individuals just because they were friends of VVIPs.
Senaratne stressed that all illegal transactions and improper tender procedures adopted by the Rajapaksa regime were being investigated under the laws of the land and whoever was found guilty by a court of law would have to face the consequences.
(The Island)
Latest Headlines in Sri Lanka