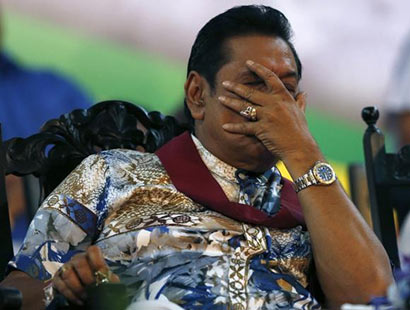 Sri Lanka's new government is to investigate "black money" transferred overseas by powerful figures in the administration of former president Mahinda Rajapaksa, a cabinet spokesman said on Thursday.
The move came a day after the government of President Maithripala Sirisena, who defeated Rajapaksa in an election on Jan. 8, said it would investigate all financial deals sealed by Rajapaksa and his brothers during his term.
"Black money invested in various foreign countries is going to be investigated," said cabinet spokesman Rajitha Senarathne, referring to illegal capital flight.
"You all know about this black money and these hidden foreign assets," he told reporters. "We are aware of these. We will provide all the information, whatever is available to us, to a special investigation unit. "
Senarathne did not mention Rajapaksa by name, but said the government had information that some of the black money belonged to "big people", whom he described as "powerful in the hierarchy" of the previous government.
Sirisena focused his election campaign on alleged misuse of public funds and powers by Rajapaksa and his family members, many of whom held public office during his decade in power. The former president has rejected all the allegations against him.
The World Bank, International Monetary Fund and a Financial Intelligence Unit functioning under India's central bank have agreed to assist the investigation into undeclared foreign assets and financial irregularities in Sri Lanka, a government document said.
The government estimates around 700 billion rupees ($5.31 billion) were taken out of the country in 2013 alone.
Earlier on Thursday, the island nation's anti-corruption body barred former central bank governor Ajith Nivard Cabraal and Sajin De Vas Gunawardena, a parliamentarian close to Rajapaksa, from leaving the country due to corruption complaints. Both have rejected allegations of misusing public funds.
(Reuters)