President releases water for research purpose for Moragahakanda electricity generation
Posted by Editor on December 3, 2017 - 8:37 am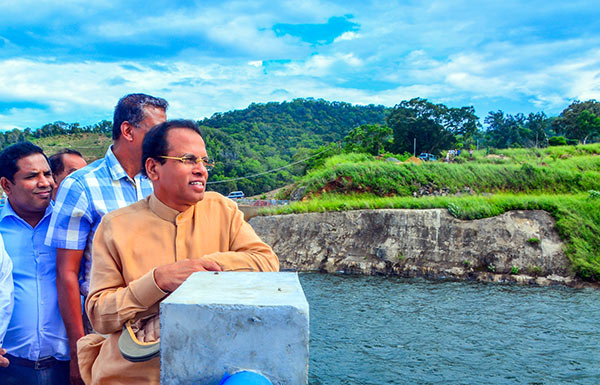 President Maithripala Sirisena released water for research purpose for the electricity generation of Moragahakanda yesterday (Dec. 02) at auspicious time.
The Moragahakanda reservoir reached the required sea level 178m for the electricity generation due to the high rainfall.
Speaking at the occasion, the President said this was one of his dreams which became a reality. "I was waiting for this moment for a long time", he said.
Moragahakanda reservoir, the wonder of irrigation in the Knuckles mountain range will provide required water to the farmers while adding Mega Watt 25 electricity to the national grid.
The research on electricity generation will be carried out for four days and then will add Megawatt 25 to the national grid.
Moragahakanda reservoir is situated 132m higher from the sea level. This has ability to generate electricity to the utmost level. It will save Rs.336mn annually form the fuel cost.
Deputy Minister Anuradha Jayarathne, Governor of the Central Province Niluka Ekanayake, MP of Matale District Rohini Kavirathne, SLFP organizer for Kandy District H. C. M. Surukhan, former mayor of Gampola who joined the SLFP today Sarath Hettiarachchi and Mahaweli Director General Gotabhaya Jayarathne were among those participated in this occasion.
(President's Media)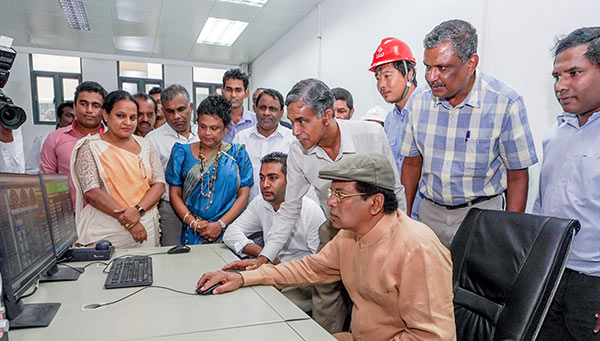 Latest Headlines in Sri Lanka