President returns after successful South Korean visit
Posted by Editor on April 28, 2012 - 8:17 am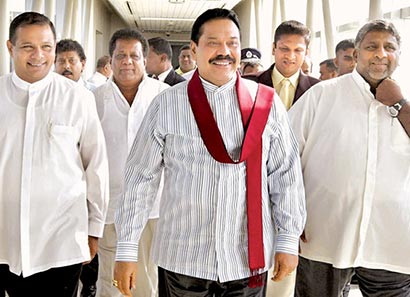 President Mahinda Rajapaksa returned to the island yesterday after completing a successful four-day state visit to South Korea.
President Rajapaksa held a very productive discussion with South Korean President Lee Myung-bak where he appreciated the assistance rendered by Korea for development activities in Sri Lanka. The President invited Korean investors to make use of the investment opportunities available in the country and also pointed out the possibility of entering into a free trade agreement between the two countries as Sri Lanka's exports to Korea had grown to USD 46 million last year.
During the bilateral discussion with the South Korean President, he agreed to provide his country's assistance to the Information Technology Park being built in Hambantota.
The two Presidents signed three agreements enhancing cooperation in information, economic and power sectors. Addressing key business persons of Korea the President said that Sri Lanka is well poised to offer a safe and sound investment opportunity to its many foreign investors and are working closely with many of Sri Lankan companies to strike new relationships that are of mutual benefit.
The President also attended the Sri Lanka – Korea Business Forum hosted by the Busan Chamber of Commerce and Industry where he invited Korean business community to invest in Sri Lanka and to be a partner in the prosperous march of the nation. "I can confidently assure you that you will truly be happy that you took such a decision," he said.(priu.gov.lk)
Courtesy: Daily News
Latest Headlines in Sri Lanka