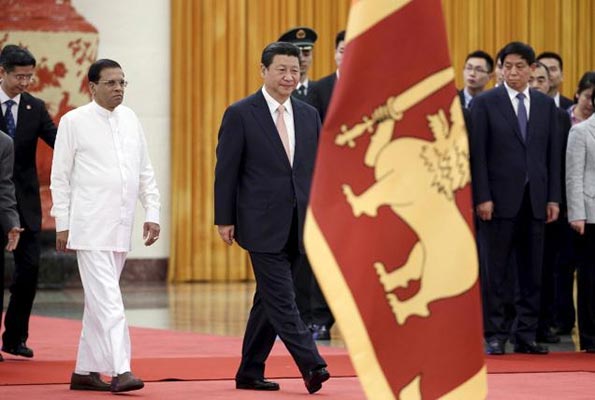 Sri Lanka's new president Maithripala Sirisena held talks on Thursday with Chinese leader Xi Jinping amid a push to recalibrate his predecessor's strongly pro-China policies and a review of major Chinese projects in the island nation.
Mr. Sirisena and Mr. Xi reaffirmed longstanding ties between their countries at the start of their meeting at the Great Hall of the People in central Beijing. The talks kicked off Sirisena's first visit to the Asian giant since taking office in January and follow his recent trip to neighbor and Chinese rival India.
In opening remarks, Mr. Xi said China considers Sri Lanka a strategic partner and wants to "again promote and elevate the China-Sri Lanka relationship to fulfill an important purpose."
"China has always placed Sri Lanka in an important diplomatic position in region," Mr. Xi said before reporters were ushered from the room.
The two sides were likely to discuss a $1.5 billion China-funded port city project in Colombo which Mr. Sirisena's government suspended pending scrutiny of environment impacts and alleged corruption. Mr. Sirisena's administration has also ordered reviews of all China-funded projects.
Mr. Sirisena's surprise election presented a diplomatic challenge to Beijing as it seeks to expand its political and economic influence in the Indian Ocean region.
China enjoyed close ties with his predecessor Mahinda Rajapaksa, under whom a raft of Chinese-backed projects sailed through the approval process with few questions.
China was a trusted supplier of weapons in Mr. Rajapaksa's crushing of ethnic Tamil separatists and backed Sri Lanka against allegations at the United Nations of human rights abuses in the civil war.
In his visit last year, Mr. Xi won support from Sri Lanka and neighboring Maldives for a new maritime "Silk Road," seen as a way of encircling India and controlling port access along sea lanes linking the energy-rich Persian Gulf and economic centers in eastern China.
In contrast, MR. Sirisena wants to balance Sri Lanka's China ties against those with India and chose New Delhi for his first official visit. This month, Prime Minister Narendra Modi became the first Indian leader to visit Sri Lanka in 28 years.
The massive Colombo port project, backed by the major Chinese state-owned company China Communications Construction Co., has become a particular concern for India. That's largely due to recent visits to Sri Lanka by Chinese navy ships and submarines and the possibility that China could own outright part of the artificial land on which the development is to be built.
Asked Wednesday about the project's suspension, Chinese Foreign Ministry spokeswoman Hua Chunying said China expects Sri Lanka will "keep it in mind its own profound interest, promote the practical cooperation and properly deal with the related project between the two countries."
(AP / The Hindu)