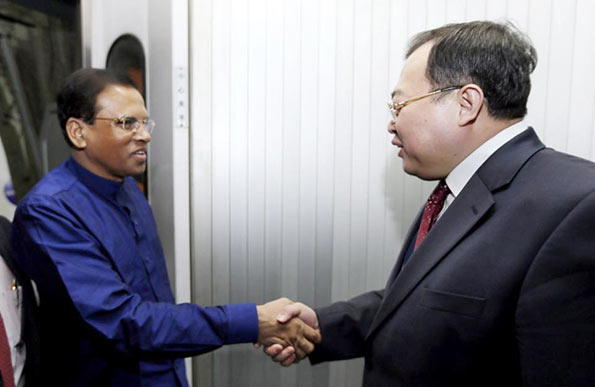 Chinese Vice Minister of Foreign Affairs Mr.Liu Jainchao welcome the President at Beijing airport
Sri Lanka's President Maithripala Sirisena headed to Beijing on Wednesday seeking to end a stalemate over China's biggest investment project in the island which his administration has suspended over allegations of wrongdoing.
The review of the $1.4 billion Colombo port city project ordered by Sirisena after he took office in January has become a sore point, with neither side showing signs of backing down.
China, which has invested millions of dollars in Sri Lanka's infrastructure since the end of the civil war in 2009, has defended the port project, saying it was in line with local laws and any cancellation would deter foreign investors.
But Colombo says the project awarded to China Communications Construction Co Ltd lacked government approvals and in particular has questioned the transfer of 20 hectares of land to the Chinese firm on an outright basis, saying it impinged on national sovereignty.
Sri Lankan finance minister Ravi Karunanayake who is accompanying the president to China said they hoped to persuade Beijing about their commitment to tackle corruption in government contracts.
"We are doing exactly what the president of China is doing, resolutely fighting against the corruption," Karunanayake told reporters.
Another official said Sirisena will in particular discuss Chinese ownership of land with Chinese leaders, an issue that has also drawn concern in neighboring India which sees it as a security threat, overlooking a strategic port.
Sri Lanka also owes China $5.3 billion in loans for infrastructure projects that members of the new administration want to be renegotiated on easier terms.
But a former Sri Lankan diplomat cautioned the government against going too hard on Chinese investments in the island which are seen as part of a Chinese plan to build a network of projects around the Indian Ocean and extend its influence.
"The West and India cannot pick up the slack. Therefore it is to be hoped that President Sirisena will restore the excellence of the Sino-Lankan relationship which has been somewhat bruised," Dayan Jayatilake said.
(Reuters)