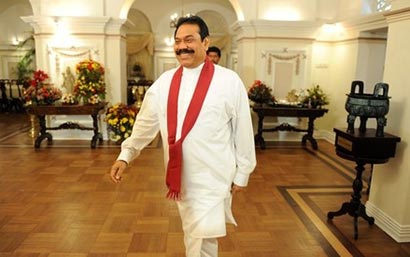 "I will be asking all relevant political parties to come together in the Parliamentary Select Committee (PSC) process in an effort to iron out differences of opinion among them with regard to the issues facing our communities and to speed- up the normalization process in the country. All these parties and other relevant sections are obliged to put the interests of Sri Lanka above their self-interest," President Mahinda Rajapaksa said yesterday at his monthly breakfast meeting with newspaper Editors at Temple Trees.
The issues confronting us in this context should be resolved democratically, through the PSC process.
"Whether it be 13 plus or 13 minus, these and more issues should be sorted out through the PSC mechanism. The Opposition must join in this effort as the problems at hand should be resolved democratically," the President explained. It is the PSC which must clear-up all outstanding questions, he said. "Parliament's decision on these matters is my decision," the President emphasized.
"I am willing to expedite the PSC process to search for solutions to these issues. There is absolutely no need for intermediaries. While it is the responsibility of all to come together to search for solutions to our issues collectively, some parties in the Opposition are not even nominating their personnel to the PSC. The TNA has, on occasion, acted like the LTTE.
They have joined discussions only to leave them abruptly. All need to remember that a problem which raged for 30 years cannot be resolved in a hurry," the President explained.
When it was pointed out by some in his audience that some parties in the UPFA alliance had taken issue over questions like land and police powers to the Provincial Councils, the President said that it is up to these parties to join the PSC and to resolve their issues within it. Although they may raise issue on this or that question, they are all committed to the Mahinda Chinthana, which makes it clear that a solution should be found to these questions', it was pointed out.
Answering a question, Sajin Vaz Gunawardena MP said that the LLRC recommendations are being studied by an Inter-Ministerial Committee headed by External Affairs Minister Prof. G.L. Peiris, with regard to their implementation. Minister Basil Rajapaksa said that some of these recommendations are already being implemented by some state agencies.
On being asked whether Sri Lanka was risking being seen as too closely linked to China, Minister Basil Rajapaksa said that this country was not partial towards China. Not all the moneys coming from China are loans. Most of theses moneys are either grants with no strings attached or gifts; for example, the Nelum Pokuna project and the BMICH renovation.
"Likewise, we are also assisted financially by India in numerous projects. For example, the numerous Northern railway ventures and the Southern railway project are cases in point." The minister explained that since Sri Lanka meets its financial obligations it is helped in this way. "Our economy is also seen as strong. The IMF too has commended Sri Lanka's financial management. There is no question of Sri Lanka being bound to any country," he said. ( L.O.)
Courtesy: Daily News