Premajayantha meets most senior Tamil member of SLFP
Posted by Editor on January 31, 2012 - 7:54 am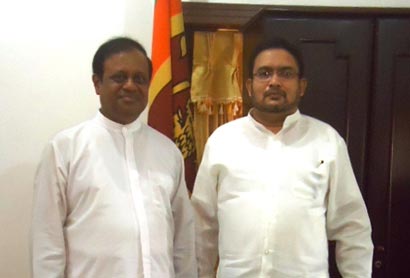 UPFA general secretary Susil Premajayantha today (Jan. 30) had a meeting with Dr. Telli C Rajaratnam, the most senior Tamil member of the SLFP.
Dr. Rajaratnam is the son of the late T.W. Rajaratnam, former judge of the Supreme Court, former SLFP national list MP and editor of www.srilankanpatriot.lk.
The two had discussions on subjects ranging from effective media processes and political strategies to enhance the importance of subjects that need to be addressed during development processes and in the international arena of diplomatic relations.
Dr. Rajaratnam has been a member of the SLFP for more than 35 years and was a candidate for the SLFP in the 1994 Parliamentary General Elections in the Colombo district and the 2009 Provincial Council Elections UPFA candidate for Colombo.
Latest Headlines in Sri Lanka