President tours landslide hit Matale : Alternate land for victims
Posted by Editor on December 31, 2012 - 7:27 am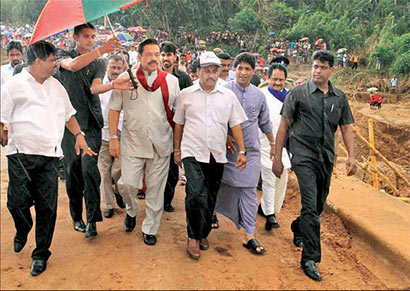 President Mahinda Rajapaksa promised alternate land for those who lost their homes due to landslides in the Matale district. During a visit to flood and landslide affected areas in the Matale district on Saturday, the President told residents, the government will provide suitable alternate lands in safe locations for those whose property has been totally destroyed, the President's media said.
President Rajapaksa instructed the Matale District Secretary to take immediate steps to construct houses in suitable and safe lands for those whose homes had been completely damaged due to earth slips, it added.
In Matale district alone, 172 houses have been totally destroyed due to landslides. In Kandy, another 68 houses have been totally damaged, according to the Disaster Management Centre.
The latest spate of floods and landslides affected nearly 400,000 people in 18 districts and caused extensive damage to both man and property.
President Rajapaksa on Saturday visited several areas in the Matale district to inspect the damage caused by floods and landslides and to inquire in to the well-being of the affected families who have been sheltered in welfare camps. He also handed over financial assistance to the affected and distributed dry rations among them at an event at the Rattota Pradeshiya Sabha.
Speaking during the event, the President told the public that his government was always committed to restore and compensate for damaged property, both public and private, during natural calamities.
He said if the people too acted according to expert advise, it will help reduce risk and damages during natural disasters.
President Rajapaksa said everybody had a role to play in disaster mitigation and added that protecting and properly managing nature will go a long way in minimising the effects of natural calamities.
The President also inspected the progress of the repair work on the Rathgammana Bridge across the Amban River connecting the Matale and Laggala electorates. The heavy rains washed away the banks of the bridge, the President's media said.
Disaster Management Minister Mahinda Amaraweera, Deputy Ministers Nandimithra Ekanayake and Rohana Dissanayake, MPs Lakshman Wasantha Perera and Lohan Ratwatte, Central Province Governor Tikiri Kobbekaduwa and Ports and Highways Ministry Secretary R W R Pemasiri accompanied the President.
Courtesy: Daily News
Latest Headlines in Sri Lanka