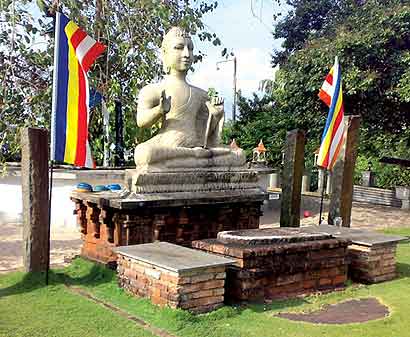 President Mahinda Rajapaksa will ceremonially unveil the pinnacle of the newly constructed cetiya at Sri Anandaramaya in Maha Heenatiyangala village in Kalutara South today. The statue made out of rock, five feet in height and in Abaya and Kataka mudra is surrounded by four stone pillars representing four noble truths of worldly life leading to sorrow.
The leaning rock pillar on the left indicates the attachment to worldly things, which causes the suffering.
The eight rock pillars on the right indicate the eightfold path to get rid of earthly attachment leading to sorrow.
The fallen rock pillar on the left indicates the understanding of reality and realization of Nibbana. In front of the rock statue is placed the Siripatula carved out of rose granite (tiruwana) modelled on that of the Siripatula found in the Shrine room at Ruwanveli Dagoba.
Behind the statue rises the bodhiya, a sapling of Sri Maha Bodhiya planted in 1989.
Behind the bodhiya is the newly constructed cetiya glittering in white. The Atavisi Buddhas with their respective trees under which the Buddhas attained enlightenment is exhibited around the bodhiya.
On a clear day one can view the Adams peak on the eastern side of the hill, the sea, Holy Cross college church and Kalutara town on the Western side of the hill and the Beruwala light house on the Southern side of the hill.
The Sri Anandaramaya complex is the end product of the efforts of the monks, dayaka sabhawas, devotees of the village and well-wishers.
Former High Court Judge Maxwell Paranagama, who is from the village had commissioned the rock statue in Abaya and Kataka mudra to model on the one at Pankuliya village at Anuradhapura belonging to Abhayagiriya era.
The craftsman is C.M.Tillakeratne of Pilimatalawa, a former trainee pupil of Gangaramaya temple, Colombo. His assistants were M. A. Siripala and Tony Fernando. They had taken over three years to complete the five-foot statue out of a rare rock material called Kalu-Kurudu found in Nilambe, Galaha.
Source: Daily News