President wants N&E lands released to owners before December 31
Posted by Editor on October 5, 2018 - 8:37 am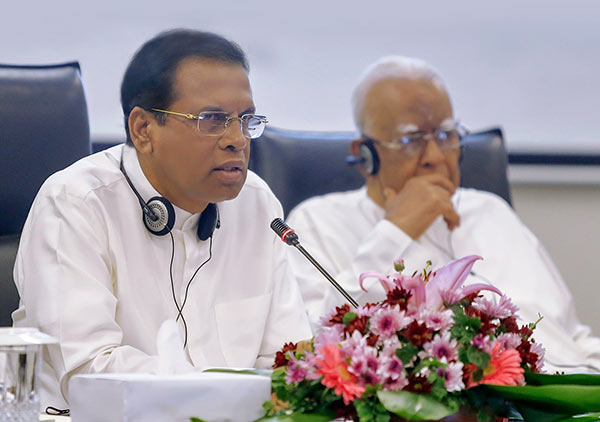 President Maithripala Sirisena said people in the North and East should be given back the land they are entitled to and directed the relevant officials to resolve all existing problems and release such land to the legally entitled owners before December 31 this year.
The President issued this directive when he presided over a meeting of the Presidential Task Force on North East Development held for the third time at the Parliamentary Complex on October 3.
The President directed officials to implement the programme according to a systematic time frame and report its progress at the next months Presidential Task Force meeting.
Special attention was drawn at this meeting towards the release of land and buildings belonging to schools in the North and East held by the Armed Forces and the on going programme for resolving the drinking water problem in the North and East.
Since people in certain parts of the Trincomalee district were saddled with an acute shortage of water, the President inquired about the relief provided to them.
Although Akkaraipattu had sufficient water resources, certain village areas suffered a shortage of water due to the lack of a proper distribution network, it was observed and attention was drawn towards resolving this problem.
The relief programme drawn up for the benefit of people in the Kilinochchi district affected by the serious drought and the programme launched to combat violence and combatting the drug problem in the North and East came under discussion at this meeting. The President who inquired after the progress of development in the sacred Madhu area said all parties should perform their duties and responsibilities of restoring the benefits of development denied to the people in the North and East.
The President also stressed the need to achieve expected development targets with the support of all sections. Opposition Leader R.Sambandan, several Ministers and MPs, Governors, Secretary to the President Udaya R.Seneviratne, Service Chiefs, the IGP and other officials were also present at the meeting.
(Source: Daily News)
Latest Headlines in Sri Lanka