President warns SLFP members not to disband the party
Posted by Editor on May 24, 2015 - 2:29 pm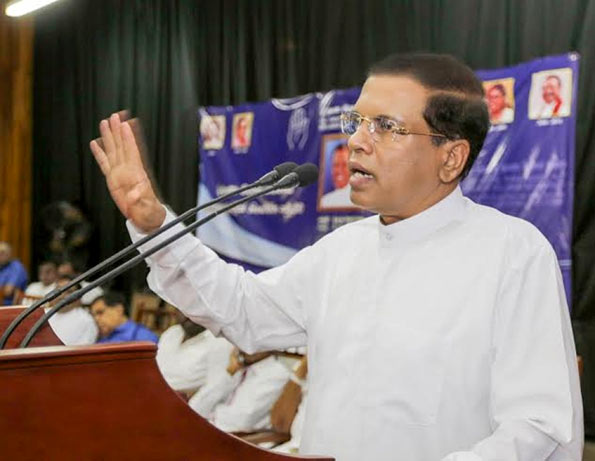 Presiding over the Monaragala District Sri Lanka Freedom Party Convention held Saturday (23rd) at the Library Auditorium in Monaragala, the President declared that he is meticulously discharging his obligations on behalf of the country and the Sri Lanka Freedom Party.
He has said that the members of the SLFP are bound by duty to achieve victory for the country and the party and therefore hey should extend their support needed for the future activities of the government.
The President also warned members of Sri Lanka Freedom Party (SLFP), the political party he leads not to act towards disbanding the Sri Lanka Freedom Party.
The President recalling that he was imprisoned three times during the administration of former president JR Jayawardena for staging a battle during against the then regime on behalf of the SLFP, the President said he wishes to challenge that no one other than him had made a firm dedication to the party.
President Sirisena noted that it was former president Mahinda Rajapaksa who first formed an alliance between the United National Party (UNP) and the SLFP in 2006.
He said that the SLFP members constitutionally appointed him as the head of the Party. If so he called on the party activists to extend the support needed for future activities and enable him to build a new country.
President Maithripala Sirisena also requested those gathered not to be flustered by false propaganda aimed at spurring discord within the party.
Opposition Leader Nimal Siripala de Silva, SLFP General Secretary Anura Priyadarshana Yapa, Parliamentarians Jagath Pushpakumara, Sumeda G Jayasena, Vijith Vijayamuni de Zoysa, Ministers and other Provincial and Regional council members representing Monaragala District were also present at the event.
(Government News Portal)
Latest Headlines in Sri Lanka