Dheepan wins top award at Cannes Film Festival
Posted by Editor on May 25, 2015 - 6:39 am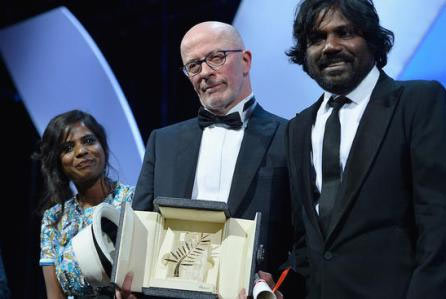 'Dheepan' has won the top prize at the 68th Cannes Film Festival, the Palme d'Or. The Jacques Audiard-directed drama, which centres on refugees fleeing post-civil war Sri Lanka for a life in France, surprisingly claimed the coveted award after being selected by a judging panel led by acclaimed US filmmakers Joel and Ethan Coen.
The French director, whose previous credits include 'A Prophet' and 'Rust and Bone', told the BBC: "To receive a prize from the Coen brothers is something pretty exceptional. I'm very touched."
Meanwhile, Joel Coen said: "This isn't a jury of film critics. This is a jury of artists who are looking at the work."
Elsewhere, 'Son of Saul' – a Holocaust drama – won the Grand Prix prize, which is essentially the runner-up award, while Vincent Lindon won Best Actor for his role in Stephane Brize's 'The Measure of a Man'.and Rooney Mara and Emmanuelle Bercot shared the Best Actress gong.
'Son of Saul' was directed by Hungarian newcomer Laszlo Nemes, who reflected: "This continent is still haunted by this subject."
Top award winners from the 68th Cannes Film Festival:
Palme D'Or:
'Dheepan'
Grand Prix:
'Son of Saul'
Jury Prize:
'The Lobster'
Best Director:
Hou Hsiao-hsien
Best Actor:
Vincent Lindon
Best Actress:
Rooney Mara and Emmanuelle Bercot
Best Screenplay:
Michel Franco, 'Chronic'
Camera d'Or (Best first feature):
'La Tierra Y la Sombra'
(Yahoo News)
Latest Headlines in Sri Lanka