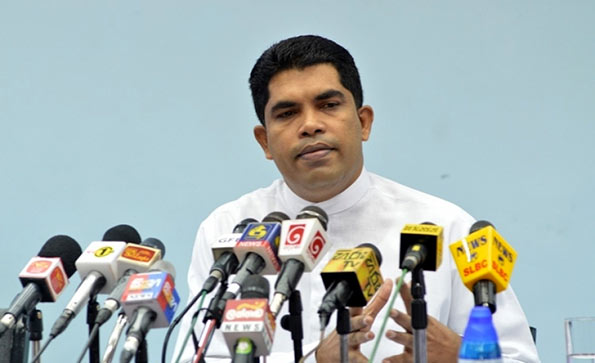 Demanding President Maithripala Sirisena to dissolve Parliament early is unacceptable when he is determined to fulfill his promises given to the people, Deputy Media Minister Shantha Bandara said.
Addressing the media at the Information Department yesterday, Bandara noted that the proposed 20th Amendment to the Constitution to introduce electoral reforms is being dragged on by different politicians which will compel the President to Parliament albeit reluctantly.
"It is impossible to draft amendments to satisfy all small parties. It is the wish of every party to increase their supporters.
They cannot demand seats in Parliament having a small number of members, Though they allege that the new electoral reforms will politically isolate the small parties, none of them have forwarded a proposal explaining the changes needed," he added. Bandara said the people share different opinions about the 20th Amendment.
"Some pretend to be amenable to the reforms to retain the support of the people. Refraining from supporting the 20th Amendment is not a people-friendly act," he said. The deputy minister said that the population of the country is not a yardstick to decide the number of the MPs and the amount of political parties. The proposals forwarded should be practical to be implemented, he said.
Deputy Minister Bandara rejected the allegations against President Sirisena that the alleged mess within the SLFP is one of the reasons for not dissolving Parliament. Bandara explained that President Sirisena has never failed to perform his duties as the President as well as the party leader.
Responding to a question by a journalist whether Parliament will be dissolved, the Deputy Minister said if the proceedings of Parliament drag on without valid decisions made, the President will have to dissolve Parliament.
(Daily News)