PRESIDENT'S SPEECH CANCELLED IN LONDON DUE TO PRO-LTTE PROTESTS
Posted by Editor on June 7, 2012 - 6:08 am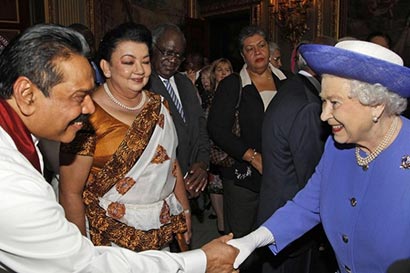 Onlanka News – By Walter Jayawardhana
The Hindu reported that Sri Lankan President Mahinda Rajapaksa was forced to cancel a Speaking engagement in London's business hub because security concerns after Tamil activists threatened to hold a large demonstration against alleged human rights abuses in Sri Lanka, Hasan Suroor  the Hindu's London correspondent quoting the Sri Lanka High Commission there said President Mahinda Rajapaksa was on Thursday was to give a keynote speech at the Commonwealth Economic Forum but it was "called off by he organizers due to pressure  of  pro-LTTE elements in London."
The following is the rest of the report Hasan Suroor filed: "The Commonwealth Business Council (CBC), which had organised the event, did not give any reason and simply said on its website: "After careful consideration, the morning sessions of the Forum… will not take place."
"Scotland Yard said it had agreed to guarantee the President's security but the CBC had "decided it was not in their interest to stage the event" due to excessive policing requirements and the likely disruption to businesses in the area. During the President's last visit to Britain in December 2010, a speech he was to give at the Oxford Union debating society was cancelled because of security concerns.
"The British Tamil Forum welcomed the CBC's decision to cancel Thursday's event saying "common sense has prevailed".
"Later, protesters gathered outside the hotel where the President was staying, and the Commonwealth Secretariat when he went there for a lunch for the Queen, hosted by the Commonwealth secretary general Kamalesh Sharma. He was jeered as his car drove into the Secretariat complex.
"A group of Sri Lankan expatriates held a counter-protest outside the hotel in support of the government. In a statement on its website, the Sri Lankan High Commission said: "President Rajapaksa went up to the pro-Sri Lankan protestors ignoring the large number of (those) shouting pro-LTTE demonstrators,…and assured that he is ready to do anything to safeguard sovereignty of Motherland."
"Sri Lankan Tamil asylum-seekers, meanwhile, accused the British government of forcibly deporting them to Sri Lanka where, they alleged, they were tortured by security agencies.
"The British government is forcibly deporting asylum seekers who are then tortured in Sri Lanka according to the testimony of one victim who was left scarred and suicidal after a brutal two-week ordeal. The victim told the Guardian he was tortured over the space of 17 days after being deported from the UK last year," The Guardian reported.
Latest Headlines in Sri Lanka