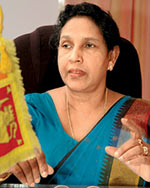 Parliament Affairs Minister Sumedha G. Jayasena says everybody including Buddhist monks in her electorate demand that ganja (cannabis) be legalised.
Addressing a public meeting on Saturday (18) to mark the opening of a rural electrification project for the benefit of 320 families in the Saragama and Helmulla areas in Siymbalanduwa, the minister said it was difficult to find a person who did not grow ganja in Thanamalwila area. "Even Buddhist monks of the area demand that ganja be legalised. These Bhikkhus come to us and request that laws be amended in Parliament to remove legal barriers to allow free cultivation of ganja," she said.
Minister Jayasena said the main Opposition UNP was rudderless and there were several bigwigs vying for the leadership. All the capable politicians had left the UNP and joined forces with the government which was developing the country at an unprecedented scale, she said. "All those who were convinced that the UNP would never come back to power have joined us. Those chased out from our party have become the leading figures of the UNP."
UVa Provincial Council Housing and Cooperatives Minister Kumarasiri Ratnayake, Chairman of the Siyamblanduwa Pradeshiya Sabha Saman Warnakulasuriya, Deputy Chairman Ajith Pushpakumara, politicians Ananda Dharmathilake and Asanka Buddhika were also present on the occasion.
(Courtesy: The Island)