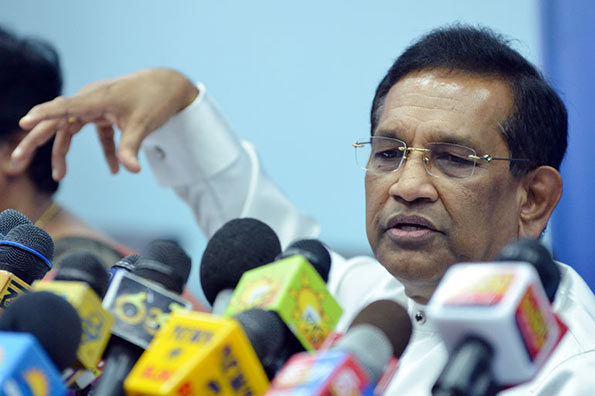 Health Minister Dr. Rajitha Senaratne has received an assurance from a major importer to slash the price of surgical equipment, a linear accelerator, the previous government had ordered, by USD 8 million.
Minister Senaratne, issuing a media statement yesterday, alleged that the original order had been placed at the behest of the leaders of the previous government.
Minister Senaratne was responding to allegations against him levelled by the Joint Opposition (JO) earlier in the day. Having accused Dr Senaratne of irregularities and corruption, the JO lodged complaints with the Criminal Investigation Department (CID) and the Commission to Investigate Allegations of Bribery or Corruption (CIABOC).
Dr. Senaratne said that as all imports had been subjected to approval by the National Drug Regulatory Authority, the ministry couldn't act unilaterally. The UNPer claimed that at the time he was appointed Health Minister there had been a major racket in the import of drugs.
The health minister claimed that the JO had been influenced by drug importers. The same lot had obstructed Maithripala Sirisena during his tenure as the health minister of the previous SLFP-led administration, he alleged.
Dr. Senaratne said the Rajapaksas, too, had been involved in the drugs racket.
According to him, both medicine and surgical equipment had been ordered without following instructions at the behest of the Rajapaksas.
Dr. Senarathe alleged that there had been a massive racket in the supply of a cancer treatment drug. Alleging a leading supplier had made available the drug at staggering Rs. 285,000 per unit, Dr. Senaratne said that immediately after the introduction of an alternative drug, the price had come down to Rs. 140,000. According to the minister, such practices had been widespread and those representing the JO lacked knowledge about such matters.
Dr. Senaratne challenged the JO to prove unsubstantiated allegations directed at him.
(Source: The Island)