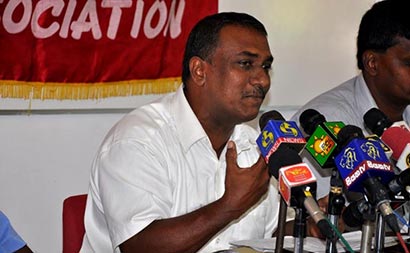 The Lanka Private Bus Owners Association (LPBOA) yesterday announced that they would launch a one-day bus strike some time between April 20 – 30 if the authorities failed to increase the bus fares as requested by the bus owners.
Addressing a press conference in Colombo yesterday the LPBOA President Gemunu Wijeratne said they would not hold a protest during the Sinhala and Tamil New Year period and create problems to the public.
"Private Transport Services Minister C.B. Ratnayake has failed to do anything positive for the public since he was appointed Minister. Instead of protecting his Ministry or the transportation system in Sri Lanka, this Minister has been working towards destroying it," Wijeratne said.
He also said the Association could not go ahead with changing the colour of private buses as private bus owners in Sri Lanka could not afford to make that change;  re-painting a bus would cost about Rs. 150,000 while also putting that bus out of business for about five days.
Wijeratne also said, "We ask the government to reduce the fee for route permits increased most unfairly in the Western province and to reduce the number of CTB buses plying in the Southern province."
(Courtesy: DM Online)