Chidambaram criticises BJP on Sri Lankan Tamils issue
Posted by Editor on April 8, 2013 - 1:09 pm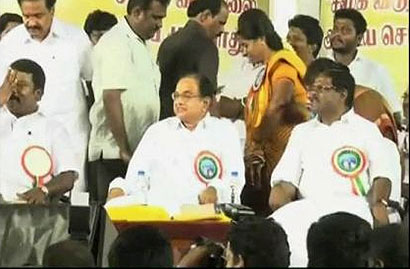 Chennai, Apr 8: Finance Minister P Chidambaram has criticised Bharatiya Janata Party (BJP) for not supporting the UPA government's efforts to pass a resolution in Parliament on the Sri Lankan Tamils issue.
Addressing an event here yesterday, Chidambaram said: "When we were trying to pass a resolution, BJP leader Sushma Swaraj said there was no necessity to discuss it and there is no need to conduct an all-party meet."
"It is Congress Party that supported the resolution against Sri Lanka in the parliament, the AIADMK and DMK supported it because they belong to Tamil Nadu. No other party in the Parliament supported the resolution; the people of Tamil Nadu must understand it. The BJP did not support it," he added.
Chidambaram further boasted of the Congress Party's commitment to raise voice against the 2009 genocide by Sri Lanka.
The Tamil Nadu assembly had earlier adopted a resolution, moved by Chief Minister J. Jayalalithaa, urging the Centre to take firm steps against Colombo till the 'suppression' of Tamils was stopped and those responsible for "genocide and war crimes" faced a credible international probe.
The resolution came close on the heels of Jayalalithaa writing to Prime Minister Manmohan Singh, saying India should boycott the Commonwealth Heads of Government meeting to be held in Colombo in November this year.
The nearly 30-year-long civil war between the government and the Tamil Tiger rebels of LTTE who at one time controlled large swathes of the north of the island state is estimated to have left tens of thousands of people dead or injured. (ANI)
Latest Headlines in Sri Lanka