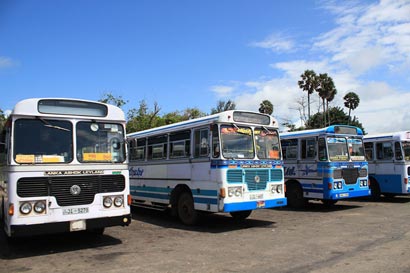 The All Ceylon Private Bus Workers Association were expected to launch a strike as of midnight yesterday to express their opposition against the new fines imposed for violating road rules.
Convenor of the Association, Kumara Rathna Renuka said that owners of bowsers, containers and three wheelers of Colombo will support their strike. However, other private bus owners associations will not take part in this strike.
"We have requested for a meeting with the President to discuss this matter.
If we got an opportunity to discuss with the President, we will not go on strike," he added. Meanwhile, Examinations Department sources requested the Advanced Level Examination candidates to call over at examination centres in time today so as not to be victimised by the private bus strike.
Meanwhile, Lanka Private Bus Owners' Association (LPBOA) President Gemunu Wijeratne said his association will not engage in the strike. He requested the LPBOA not to go-ahead with the strike action because of the ongoing G.C.E. A/L examination.
(Source: Daily News – By Irangika Range and Dharma Sri Abeyratne)