PRIVATE TUITION CLASSES NEED TO COME UNDER A LEGAL FRAMEWORK – BANDULA
Posted by Editor on December 29, 2010 - 9:34 am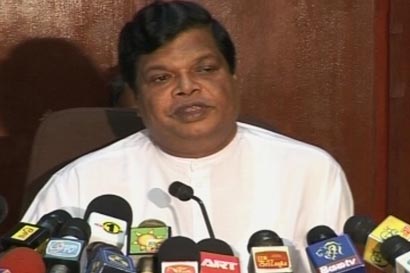 Private tuition classes need to come under a legal framework, says the Minister of Education Bandula Gunawardena.
The Minister expressed this view at a seminar in Colombo today organised to reveal facts gathered through an initial survey conducted by the National Education Commission on private tuition classes.
According to the survey carried out on a sample of Grade 12 Advanced Level students, 99 per cent of students in the Commerce stream, 96 per cent of students in the Arts stream, 100 per cent students in the Bio Science stream, attend private tuition classes.
"There is no need to enforce laws if students are being taught at schools in accordance with the syllabus and if the question paper is drafted in line with the syllabus. If this is done there will be nothing called 'tuition' in Sri Lanka. I accept the fact that these private institutions need to be subjected to a set of rules. If this is not done and a ban is imposed, then we won't be even receiving the exam results obtained now," said the Minister.
Courtesy: News First
Latest Headlines in Sri Lanka