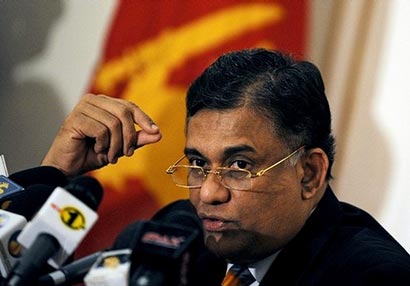 The Parliamentary Select Committee (PSC) appointed by the Speaker to probe charges against Chief Justice Shirani Bandaranaike was a laid down procedure found in the constitution. The Standing Orders are created under the constitution by the legislature in dealing with certain specific areas for which the legislature's functions have been determined by the creators of the constitution, former Foreign Minister Rohitha Bogollagama said.
He was addressing the media with PSC chairman minister Anura Priyadarshana Yapa on the theme 'Insight on the impeachment motion' at the Sri Lanka Foundation Institute on Wednesday.
Bogollagama said the constitution has explained the parameters of each institution and organ of the country created by the constitution. "That includes the Legislature, the Executive along with the Judiciary," he said.
"Everybody in the House agreed the procedure was constitutional and nobody has yet voiced against it," he said.
"I don't think we should get into any areas of debate over this interpretation. It is straight forward," Bogollagama said.
He said the interpretation of law in relation to the constitution lies with the Supreme Court.
"Parties can canvass this matter before court and we must respect their right to canvass. But at the same time, there is no determination as yet before us in terms of the legality or the constitutionality arising in terms of the very provisions that the PSC was unconstitutional," Bogollagama said. "There is no ruling that this is unconstitutional. Therefore, it is time that we go ahead in terms of the process that is already embarked on and the findings have already been announced containing a report which is very transparent. I think the process is something that we all have to respect. That is what is found within the constitution," he said.
Asked on the international response over these proceedings, the former foreign minister said no country would interfere when matters are domestic.
"They would be worried only if the government is harming the country's democracy by violating the constitution. The international community has never pressurised us in relation to this matter. We maintain a good relationship by explaining what is really going on Sri Lanka. No country has so far expressed their displeasure or objections over the Chief Justice's impeachment motion," he said.
Courtesy: Daily News