Professor Peiris meets Indian minister and envoys in New Delhi
Posted by Editor on January 28, 2012 - 8:32 am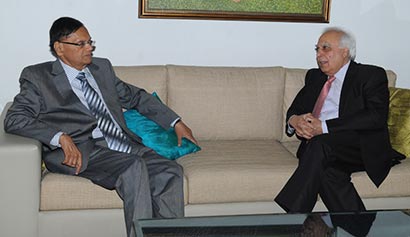 External Affairs Minister Prof. G.L. Peiris, on a two-day visit to New Delhi held discussions on Monday with over 70 envoys accredited to Sri Lanka who are resident in New Delhi.
The minister briefed the envoys in detail regarding the situation which existed in Sri Lanka's North and East before the conclusion of the conflict in May 2009, the current situation, specific approaches that have been identified as a means of overcoming the challenges before the nation, and the progress made so far in multiple fronts since the end of the conflict approximately two-and-a-half years ago.
Explaining that the Government of Sri Lanka is acutely conscious of the unique opportunity afforded as a result of the successful conclusion of the conflict, Prof. Peiris assured the envoys that the political will that is required to carry forward the development agenda, implementation of the recommendations of the Lessons Learned and Reconciliation Commission (LLRC), and political reform do exist. This is evident in the pragmatic strategies that have been drawn up and the implementation processes that have commenced in earnest, within weeks of the LLRC Report being presented to Parliament. Emphasizing that the Government is committed to engaging with the international community in a spirit of candour in dealing with all issues, the Minister informed the envoys that the Government is working as well towards restructuring Sri Lanka's diplomatic representation to strengthen cooperation with countries in the Latin American, Caribbean and African and Central Asian regions.
Discussion covered the following areas in detail; resettlement of displaced persons; demining; rehabilitation of ex-combatants; reconciliation; implementation of the recommendations of the LLRC, especially in the areas of restitution, land, demilitarization, and language policy including the trilingual initiative.
At his meeting with the Minister of Human Resource Development and Minister of Communications and Information Technology of India Kapil Sibal, Prof. Peiris discussed how India could support the effective implementation of the National Plan for a Trilingual Sri Lanka (2012-2021) that was launched on 21 January by President Mahinda Rajapaksa, with the participation of former President of India, Dr. A P J Abdul Kalam.
With a view to enhancing cooperation between the Lakshman Kadirgamar Institute for International Relations and Strategic Studies (LKIIRSS) and Indian Institutions, the minister met former Indian Foreign Secretary Ambassador Shyam Saran, Chairman of the Research and Information Systems for Developing Countries (RIS) and the Director General of the Indian Council of World Affairs (ICWA) Ambassador Sudir Devare.
Courtesy: Daily News
Latest Headlines in Sri Lanka