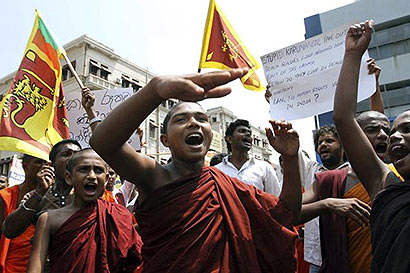 – Submitted by Walter Jayawardhana –
Sinhala Ravaya, a Sinhalese Buddhist pressure group, on Tuesday staged a march to the Indian High Commission in Colombo to protest the repeated attacks against Buddhist monks in Tamil Nadu.
Several dozens of monks and civilians handed over a petition to the Indian mission seeking Indian government's intervention to prevent the attacks.
"The LTTE cadres who have killed many civilians Buddhist monks…are now enjoying the facilities provided by the government after being rehabilitated.
"While there is such a situation in Sri Lanka, we regret that the Indian government has not taken any action to stop these uncivilised actions against Sinhala Buddhists", a statement by Sihala Ravaya said.
Two Buddhist monks had come under attacks in Tanjavur and in Chennai on Monday, triggering protests in Colombo.
Sri Lanka said it has sought from India protection for the Sri Lankan travellers and the island's interest in view of the protests which have mounted to coincide with decision time for India over the anti-Sri Lanka resolution at the U.N. Human Rights Council.
The protest came just hours ahead of an Indian High Commission statement which said "We have noted with concern the recent incidents involving Sri Lankan citizens in Tamil Nadu. The Government of India, in consultation with the concerned State governments, has taken and will continue to take all measures to ensure the safety, security and well-being of Sri Lankan visitors to India, including to Tamil Nadu". (Courtesy the Hindu)