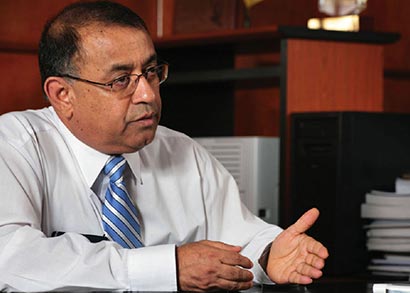 Treasury Secretary Dr. P.B.Jayasundera predicted that considering the current growth trends, Sri Lanka migrant worker remittances will surge over US $12 billion by 2020, an increase of US $5 billion from the current US $7 billion.
Highlighting the importance of migrant worker remittances to the Sri Lankan economy, Dr.Jayasundera pointed out that remittances reached US $7 billion in 2013 when tourism brought in US $1.5 billion and Foreign Direct Investment US $1 billion for the same period.
Dr.Jayasundera said that Sri Lanka's migrant worker contribution to the growth of the country's economy has been increasing steadily over the years and the current figures show 800 workers leaving daily to work overseas.
He made these observations addressing the meeting of senior officials of the 11 nation organization "Colombo Process", a dialogue platform for countries of origin of labour migrants in Asia, which concluded its two day sittings here yesterday.
Dr. Jayasundera attributed the surge in worker remittances to the thrust adopted by the Foriegn Employment Promotion and Welfare Ministry, to increase the migration of skilled manpower for better salaries and perks rather than focus on unskilled and female domestic workers.
He pointed out that while migration of females from Sri Lanka to work as domestic hands overseas dropped by 33 per cent during the last 10 years, the skilled and professional worker category had increased by 30 per cent in the same period. "The Ministry's current focus on skilled workers will further improve this category of workers in the coming years with many initiatives in the pipeline to improve their capacity", he predicted.
Also Dr.Jayasundera noted that returning migrant workers too play a crucial role in supplementing the economic growth of the country. "These workers bring in new skills, capital, technology and risk taking abilities which augur well for their future development" he added.
Dr.Jayasundera observed that an initiative mooted by the President in Budget – 2012 to grant assistance to returing workers to help start businesses were paying rich dividends today. The Treasury Secretary stressed that the country was not only looking at the monetary aspect when it came to its migrant workers but was paying equal attention to their personal development, safety, welfare, rights and wellbeing of workers' families .
He pointed out that introducing a minimum age for female workers, preventing mothers with children below the age of 5 from migrating for employment, a comprehensive social security scheme and many such initiatives were correct steps in this direction. The 'Colombo Process' meeting is attended by representatives from 11 countries. In Sri Lanka, current figures show with over 1.7 million Sri Lankans working abroad, migrant workers constitute 17 percent of Sri Lanka's working population.
(Daily News)