Raid on WPC Minister's home gathers storm
Posted by Editor on October 19, 2011 - 9:41 am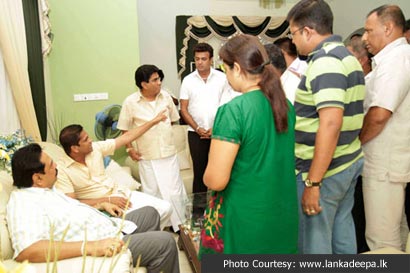 Western Provincial Minister of Tourism, Transport and Highways Nimal Lanza yesterday threatened to take legal action against police commandos for raiding his house at Negombo on Monday night without a Court order.
Lanza told The Island that President Mahinda Rajapaksa, who visited his residence yesterday morning, on hearing of the incident, ordered IGP N. K. Illangakoon to probe the raid and submit a report immediately.
He said he told the President that his enemies had given a false lead to the STF to humiliate him.
Deputy Inspector General of Police R. W. M. C. Ranawana, who heads the police Special Task Force, denied raiding Lanza's house. "We only went in search of budded vehicles in the area and our officers did not enter the Minister's residence," he said.
Lanza however claimed that his house was searched for budded vehicles, but they found none and it was a total lie to say that they were searching for drugs and illegal weapons.
Political sources said the Lansa family had already been piqued by the refusal of the UPFA hierarchy to appoint Nimal's brother Dayan as Mayor of Negombo after he topped the preference count at the October 08 poll with more than 15,000 votes. The UPFA however had announced, in the run up to the poll, that Dayan would not be made mayor as his brother already holds a top post in the Western Provincial Council.
Courtesy: The Island
Latest Headlines in Sri Lanka