Rajapaksa to hold talks with Manmohan
Posted by Editor on October 13, 2010 - 7:40 am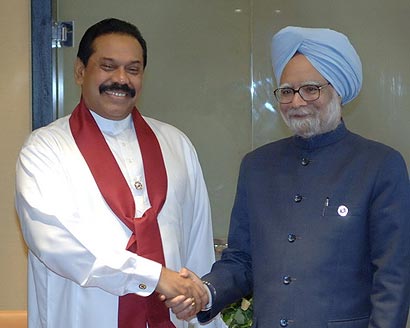 Courtesy: The Hindu – B. Muralidhar Reddy
He will be the guest of honour at the closing ceremony of Commonwealth Games
COLOMBO: Sri Lankan President Mahinda Rajapaksa, who is the guest of honour at the closing ceremony of the Commonwealth Games in New Delhi on Thursday, will hold bilateral discussions with Prime Minister Manmohan Singh on matters of mutual interest between the countries.
An official statement here said that Minister of External Affairs G. L. Peiris will accompany Mr. Rajapaksa.
"Professor Peiris will use his presence in Delhi to hold discussions with several senior members of the Indian Cabinet, including External Affairs Minister S.M. Krishna, Home Minister P. Chidambaram, Minister of Overseas Indian Affairs Vayalar Ravi, Minister of Commerce and Industry Anand Sharma and Human Resource Development Minister Kapil Sibal."
Professor Peiris is also due to deliver the Foundation Day Address of the Observer Research Foundation in New Delhi on Friday.
Mr. Rajapaksa made an official visit to New Delhi in June. His coming visit assumes significance as India is closely involved in assisting Sri Lanka in the re-settlement and rehabilitation of nearly three lakh Tamil civilians after the war between the Sri Lankan security forces and the Liberation Tigers of Tamil Eelam.
India has already committed Rs. 1,000 crore for the displaced civilians and will build 50,000 houses in the war-ravaged Northern Province.
Mr. Krishna is scheduled to arrive on an official visit to the island nation in the last week of October. Besides holding discussions with his Sri Lankan counterpart on the process of re-settlement of the displaced, he will also visit the areas in the north that were formerly under the control of the Tigers, for a first hand knowledge of the re-settlement and utilisation of Indian funds meant for the displaced.
"Suspend project"
Separately, in a letter addressed to Mr. Rajapaksa, Tamil United Liberation Front leader V. Anandasangaree said the paddy cultivators of Kilinochchi, predominantly colonists, are highly perturbed over the government's step to tap Iranaimadu water for drinking purposes into the Jaffna district and the Poonakari area.
"I strongly urge that you suspend work on this project, and before taking a decision, discuss the matter fully with the parties concerned and experts. Being fully aware of the situation, I have a duty to advise you on this matter. I recollect those days in the 1960s how we fought hard for increased water rights for the colonists," the letter said.
The Hindu
Latest Headlines in Sri Lanka