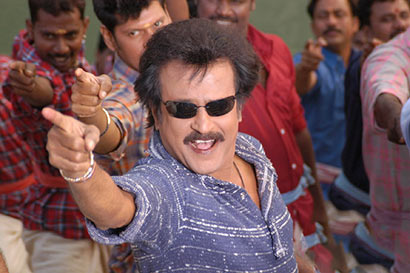 Superstar Rajinikanth's visit to Sri Lanka next month to inaugurate a housing scheme has met with opposition from pro-Tamil outfits here, who cautioned him from getting "involved" in the emotive ethnic issue.
Viduthalai Chiruthaigal Katchi (VCK) and Tamizhaga Vazhvurimai Katchi (TVK) urged the top actor not go ahead with his two-day visit starting April 9 during which he is slated to hand over 150 houses to displaced Tamils.
VCK founder Thol.Thirumavalavan alleged that efforts were on to "involve" the 'Enthiran' star in the ethnic issue in the lsland nation.
"There are efforts to involve him in the ethnic issue. Superstar (Rajinikanth) should not get involved in this matter and I say this as a friend," the pro-Tamil leader told a Tamil TV channel.
The mega star is scheduled to hand over the homes built by Lyca Group's Gnanam Foundation for displaced Tamils in northern Jaffna.
The actor is currently shooting for ace director Shankar's "2.0", a sequel to the duo's earlier hit "Enthiran," starring Rajinikanth and produced by Lyca Productions.
Incidentally, Lyca Productions had in 2014 faced opposition in Tamil Nadu when various pro-Tamil parties and organisations including VCK and TVK had opposed its producing of the movie 'Kaththi' (Knife), starring popular star Vijay.
They had alleged that the proprietor of Lyca Productions, Allirajah Subaskaran, had close business ties with then Sri Lankan President Mahinda Rajapakse, often criticised in Tamil Nadu for the death of civilian Tamils during the final assault on rebel LTTE in 2009.
Lyca Productions had then refuted the allegations.
Thirumavalvan said he had no problem with the commercial motive of Rajinikanth's visit to Sri Lanka but said he felt there could be a "political motive" behind it.
"So he should be careful about this and it would be good if he could avoid visiting Sri Lanka," he said.
TVK founder and former MLA T Velmurugan said the actor should not "fall prey" to the efforts to paint a rosy picture of Sinhala-Tamil relations in the island nation.
"At a time when Tamils are seeking justice for the ethnic violence in Sri Lanka, Rajinikanth's visit does not augur well. This is an attempt by Sri Lankan government through Lyca to create an image that Sinhalas and Tamils are living unitedly," he told PTI.
Velmurugan, who had spearheaded the protest against Lyca Productions in 2014, said Rajinikanth "has great respect and following among Sri Lankan Tamils" and therefore he should not commit himself to the programme.
He questioned whether there were no actors in Sri Lanka who could be used for this purpose.
"There is a big political conspiracy behind this and Rajinikanth should not fall prey to this," he said.
Gnanam Foundation has constructed homes for the relocation of displaced Sri Lankan Tamils affected by the civil war as part of the 'Lyca Housing Scheme' in Chinna Thampan and Puliyankulam regions in Vavuniya district in Jaffna.
Lyca Productions' Creative Head Raju Mahalingam in a statement yesterday said when they approached Rajinikanth to "grace the event as the chief guest, he readily agreed to be part of the function.
(PTI)