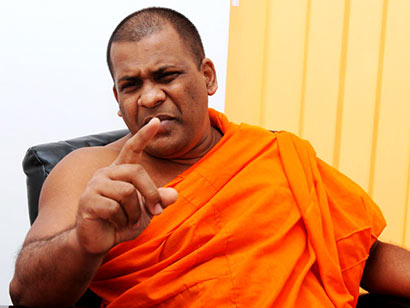 The Bodu Bala Sena (BBS) will be filing a petition against Minister of Fisheries and Aquatic Resources Development, Dr. Rajitha Senaratne, with the Commission to Investigate Allegations of Bribery or Corruption and will also be complaining to the Criminal Investigation Department (CID).
Equating the Cabinet to a pigsty, the BBS queried as to how a crony of the Minister of Fisheries and Aquatic Resources Development, Dr. Rajitha Senaratne, his Coordinating Secretary, Don Lalith Anuradha Seneviratne had allegedly purchased eight ships for Rs 600 million through the Blue Ocean Fishery Private Limited company.
General Secretary of the BBS, Ven. Galagodaaththe Gnanasara Thera claimed that Anuradha Seneviratne allegedly possessed 60% of the shares in the Blue Ocean Fishery Private Limited.
"Where did they get the black money," he asked, pointing out that a building belonging to the Ceylon Fisheries Corporation in Ethul Kotte has been sold and files regarding the transaction are allegedly missing, and yet another building just 100 metres away has been taken on rent to sell fish.
The Thera also inquired as to how many houses the minister owned in the United States of America.
"The minister should get ready to leave his ministerial post and go to prison as it will only take three days of investigation by the CID, the Presidential Investigation Unit and the Commission to Investigate Allegations of Bribery or Corruption to find that he is a criminal. If he is stating that the BBS has received funding from Norway and help from United National Party MP Ravi Karunanayake, Rajitha Seneviratne should prove to what account, what cheque, what currency, how much, what have we changed the monies into and what we have used it for," he said.
The BBS charged that the Minister was allegedly mollycoddling Muslim extremism and is associating with a Kerala ganja dealer in Beruwala and a sea slug seller in the Puttalam District. In addition Seneviratne along with his son, Chathura Seneviratne, was selling parts of territorial waters to China and Japan while in the past backing Liberation Tigers of Tamil Eelam members like Kadireshan who lived down Saranangkara Road in Pamankada.
"Earlier Bank of Ceylon issued fishermen's insurances, but now Seylan Bank does it, and this was done in a suspicious manner. The tender procedures have been completely violated in the provision of fishing tackle and gear in Weligama and Matara. One and a half year old rotten fish from Australia and Vietnam is being sold here," Gnanasara Thera alleged.
Chathura Seneviratne explained that he, as a policy, has had no affiliation to or a single transaction with any government institution or Ministry, adding also that to the best of his knowledge Sri Lankan waters were not sold to China or Japan.
"The Minister is not involved in any of this and these charges are categorically rejected due to their baseless nature," Coordinating Secretary to the Minister, Narendra Rajapakse added.
Anuradha Seneviratne was not available for comment.
(Ceylon Today)