Ranawaka's removal due to fighting with Secy.
Posted by Editor on February 6, 2013 - 9:21 am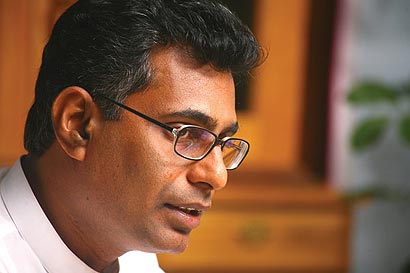 A tug-of-war between former Power and Energy Minister Patali Champika Ranawaka and Ministry Secretary M. M. C. Ferdinando over the recent removal of Lanka Coal Company Chairman Tissa Herath was the primary cause of Ranawaka losing that portfolio, senior government officials said.
Ranawaka was critical of the unnecessary expenses incurred in the purchase of coal to supply the country's first coal-powered plant in Norochcholai. He then decided to appoint Ceylon Electricity Board (CEB) Vice Chairman Anura Wijayapala to head the Lanka Coal Company. Ranawaka had removed Herath from his post without Ferdinando's consent.
However, with the removal of Minister Ranawaka, Wijayapala, too, had tendered his resignation as Chairman.
Meanwhile, inside sources said that between USD 120 and USD 150 million had been spent annually to obtain nearly 500,000 MT of coal from Indonesia for the Norochcholai plant.
The CEB and the Ceylon Petroleum Corporation had incurred a loss of Rs 160 billion up to Dec. 31, 2012, a senior official of the Treasury said.
CEB Chairman Prof. Wimaladharma Abeywickrema has asked for price revision from the Public Utility Commission, which meets later this month.
The CPC's total losses amount to Rs 95 billion while CEB's stands at Rs. 65 billion. The CEB's projected loss for this year is a staggering Rs 90 billion.
It is understood the massive losses are due to CPC's decision to raise the price of furnace oil supplied for thermal generation.
An official said unless there was a price revision in keeping with the world oil prices, the Treasury would not be in a position to carry the additional burden.
"The government can manage a loss of between Rs. 50 and 60 billion and go on up to Rs. 100 billion, but going beyond that level was dangerous and therefore there was the need for effecting price hikes and fuel adjustments charges," the official stressed.
According to the Central Bank, continuous operational losses of the CPC have resulted in a significant loss in tax revenue to the government and high borrowings from the banking system to finance working capital requirement.
The CPC's net borrowings from the banking system for their working capital requirements increased by Rs. 53.3 billion during the last year.
The cost of producing electricity through the use of thermal energy varies from Rs. 24 to Rs 60 per unit.
Meanwhile, the price of a litre of furnace oil being supplied to the CEB has been increased by Rs. 25.00.
The CPC was supplying furnace oil at a loss to the CEB for a considerable period of time. However, from this month it has been forced to increase the price of a litre of furnace oil. (Courtesy: The Island)
Latest Headlines in Sri Lanka