Surprised that all my bowlers had an off day: Mithali Raj
Posted by Editor on February 6, 2013 - 5:15 pm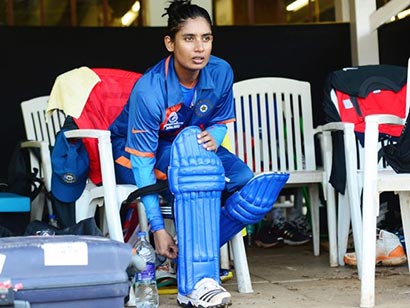 MUMBAI: Livid with her bowlers after the humiliating first-round exit from the Women's World Cup, India captain Mithali Raj said their collective failure in the must-win group match against minnows Sri Lanka was a bolt from the blue for her.
India were crushed by 138 runs, failing to chase the imposing 282/5 set by Sri Lanka on Tuesday.
"All the bowlers were off colour today. We can expect one or two bowlers of colour a day but not all of them…I think honestly 280 is something I didn't expect Sri Lanka to score against us, the kind of bowling attack we had," Raj said after the drubbing.
"Against England also, we gave extra runs in the last session of our bowling department. Even today, after the power play overs in the last 10 overs, we gave away too many runs. It is obviously a concern area," she added.
India leaked more than 94 runs in the last 10 overs against Sri Lanka, helping them to post 282/5.
"The Sri Lankan batsmen scored most of their runs at square of the wicket. It shows as a bowler where you are bowling," she explained.
Asked if former captain and pace spearhead Jhulan Goswami let her down Raj said, "It is not that one player will score each and every day. Sometimes the others also have to support. She has done well against West Indies, she has done well against England. It was her off day."
"I didn't expect the rest of the bowlers to be off too. It happens sometime that when you know one bowler is there in the side, whom you have to watch and play. And if that bowler may not get the line and length on that particular day that doesn't mean she has let me down.
"She definitely has won some amazing games for India, so one bad match for her, the position she is in, I don't think she let me down," she said.
Goswami picked up three wickets against Sri Lanka but she wasn't her economical best and conceded 63 runs.
The team had made one change by replacing pacer Niranjana Nagrajan with Shubh Lakshmi Sharma, a move that did not work.
"I think everybody knew that the wicket wouldn't help the spinners. What I expected today was that the pacers would do a decent job. The way they started after the first wicket fell, the partnership between one down batter and opener, they played some good strokes," Raj said.
"Niranjana did get few wickets in the last two games but she was expensive as well and we thought we will get a new pacer and she will be raring to go in the form of Shubh Lakshmi," she said.
Sharma went wicket-less in her nine overs and conceded 52 runs.
Raj was also critical of India's batting effort. "When you chase a big total, it is very important to have a good start. We lost a quick wicket and as we tried to build a little bit of partnership between me and Thirushkamini, it didn't become big and after me when we lost Harmanpreet Kaur.
"I think the top three batsmen in a span of below 50 runs, that is where I thought the match was going to be tight," she explained.
Asked if India underestimated Sri Lanka, Raj said, "I don't think it was complacency but I had lot of faith in my bowlers. The kind of attack we had, I definitely felt 280 was a little more today. It is disappointing to be out of World Cup as a host team."
India still have a match to play when they take on Pakistan for the seventh and eighth position play off tomorrow.
"Honestly I don't know… It is the seventh and eighth position. It is very disappointing. I really can't comment on that because I am still not in a position to think about that," she said.
"As a captain it is disappointing but as player I do realise there is always a fluctuation. It happens in sports that sometimes you are in your best of form, sometimes you really don't take it off. That is part of sport," said the world number one batter, who wasn't in best of forms scoring 1, 8 and 20 in three matches.
Meanwhile, Sri Lanka captain Shashikala Siriwardene was on seventh heaven receiving congratulatory messages from well wishers including President Mahinda Rajapaksa.
"I can't believe it, it's dream come true for us. We finished eighth in the last world cup. I got a call from my home. The people are excited over there. This is the second match they have seen live. Everything is changing for us," she said.
On the President's message, she said, "He said he has not seen a match like this for the first time. He is very happy for us. He just wanted to congratulate us. We are happy for this victory and good luck for the rest."
In their 18 meetings, India have lost to Sri Lanka for the first time having won the previous 16 times with one being a no result.
The island nation has made it to the super six for the first time and Siriwardene said the team hopes to put up a good show.
"This is the first time we are coming to super six, so we are hoping to do well," she said.
The 27-year old said that this could well be her last World Cup appearance.
"I am super happy. This might be my last World Cup and I wanted to do something special for my team. I am happy," she said. (Times of India)
Latest Headlines in Sri Lanka