Range Bandara's wife out of danger
Posted by Editor on August 20, 2012 - 6:39 am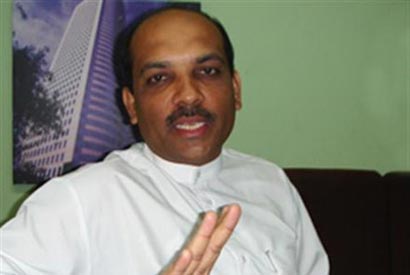 A CAT scan done on UNP parliamentarian Palitha Range Bandara's wife who was admitted to Sri Jayewardenepura Hospital with suspected internal head injuries after being allegedly beaten on Friday night at home, had revealed no brain damage, hospital sources said.
Geeta Bernadette Vijayalatha (47), who was being treated by neuro-surgeon Dr. Mrs. Maheshi Wijeratne, was likely to be discharged today since there were no injuries, according to sources.
Geeta has told the police, from her hospital room, that the cause of the assault was the Rs 3.5 million Range Bandara had paid to send her son, by previous marriage abroad for employment. He had been regularly demanding the money back and a fresh argument over the issue had resulted in him assaulting her again.Even though she had complained of being assaulted, in her statement to the police, The MP too had complained to the police that he was assaulted by his wife.
When we contacted parliamentarian Bandara, he said soon, not only him, but several other UNPers were likely to face various problems.
Bandara told The Island that his wife had been instigated by someone to make the complaint against him and in the future not only his wife even outsiders could be making problems for him. He saw the incident as part of a political dispute.
Source: The Island
Latest Headlines in Sri Lanka