Australia defends 'tough' asylum-seeker policy
Posted by Editor on August 19, 2012 - 9:29 am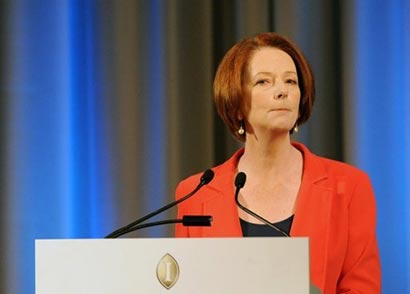 Australian Prime Minister Julia Gillard defended her decision to send asylum-seekers, arriving by boat, to Pacific islands, saying it was a "tough" policy but could save lives.
Canberra's plans to reopen shuttered camps on Papua New Guinea's remote Manus Island and on Nauru have prompted criticism from rights advocates who have described it as a backward step.
It also represents an about-face by the Labor Party which abandoned the policy after winning power in 2007, after complaints people had languished for years on the islands before being resettled in Australia under the previous government.
"Yes, this is tough policy. And I understand for many people that it's hard for them, that it's emotionally hard for them — I've seen that written on the faces of some of my Labor colleagues," Gillard told Sky News on Sunday.
"With respect, the feelings of me or any Labor member are a second order issue, indeed a hundredth order issue, compared with saving lives at sea."
Gillard could not say how long people would wait on Nauru or Manus before being resettled, but admitted it could be for an "extended period of time".
Australia has struggled to cope with a record influx of boatpeople this year, many originally from Afghanistan, Sri Lanka, Iran and Iraq who make their way to Australia via Asia.
The government hopes the prospect of years in detention on remote Pacific islands will deter asylum-seekers from attempting the dangerous sea voyage which has cost hundreds of lives over the past decade.
Rights activists have expressed alarm at the policy, saying it appears discriminatory because asylum-seekers arriving by boat will be processed offshore but those who come by plane will have their claims processed in Australia.
"Australia's new offshore processing law is a giant step backward in the treatment of refugees and asylum-seekers," Bill Frelick from the United States-based Human Rights Watch said.
"Australia again seeks to shunt desperate boat people to remote camps, perhaps for years, to punish them for arriving uninvited by sea."
Source: AFP
Latest Headlines in Sri Lanka