Government will win on performance, not promises
Posted by Editor on August 19, 2012 - 6:05 am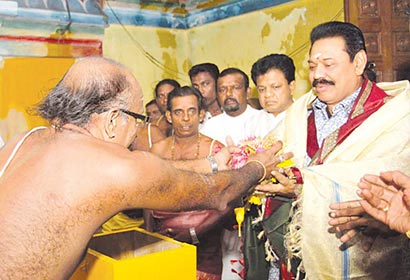 President Mahinda Rajapaksa addressing the inaugural UPFA Provincial Council election rally yesterday afternoon in the sacred city of Anuradhapura, told a mammoth gathering that his party does not need promises to win the forthcoming polls as the government has won the trust of the people by fulfilling all the promises it has given before.
The President said that he will always uphold the people's trust and would secure a future for the present generation and the unborn, in the way he ended the war to take the nation forward towards prosperity. Speaking to the mammoth crowd amidst applause, the President said his government had delivered all the promises, to come before the people today.
On the holding of elections the President said the Opposition was making a lot of noise asking why the Government was going for polls.
He said his party when in Opposition acted quite contrary to this stance and had always clamoured for polls.
He stressed that the Government was prepared to go before the people to seek their verdict on its performance. The Government was confident of its popularity. He said not only Sri Lankans, but also members of the international community were welcome to see for themselves the massive progress made since 2009.
The Government has nothing to hide. "In fact, this is the only country which has forgiven terrorists and directed them towards rehabilitation and social integration".
He also said large-scale development activities continued to benefit the people and more development schemes would emerge soon.
Pointing out some of the work carried out in the past the President said that the Government had given jobs to over 90,000 graduates and has taken steps to ensure that there were no more jobless graduates. Due to the improvement in the road network, today the journey from Anuradhapura to Colombo which had taken six hours earlier has been reduced to three, he added.
In the recent past, the President said that the Government has renovated 70 large scale tanks in the North Central Province at a cost of Rs 7,000 million.
On the expansion of electricity, President Rajapaksa said that 90 per cent of households now have power and this will reach 100 per cent in the next 2-3 years.
Courtesy: Sunday Observer
Latest Headlines in Sri Lanka