Ranil playing double game, says Sajith
Posted by Editor on May 27, 2011 - 8:33 am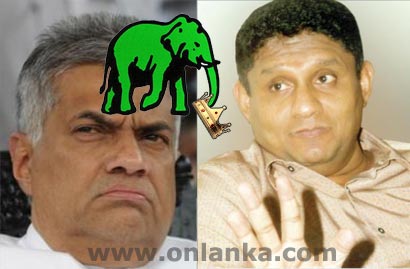 Dissident UNP MP Sajith Premadasa, on Tuesday (25) alleged that those who visited Gen. Sarath Fonseka at the Welikada prison were secretly pushing for the war veteran's detention.
An irate Premadasa accused UNP leader Ranil Wickremesinghe of playing a double game at the expense of a war hero, whereas he (Premadasa) would never do that.
The Hambantota District MP was reacting to an allegation by Dr. Jayalath Jayawardena that an aide to Premadasa identified as Lal Perera had defamed him and his family at a recent media conference.
Gampaha District MP Jayawardena raised the issue at a meeting of the UNP parliamentary group in Parliament before the commencement of sittings on Wednesday.
Jayawardena alleged that Lal Perera had worked for Premadasa as his Media Secretary. Moneragala District MP Ranjith Maddumabandara said that Premadasa shouldn't be dragged into a personal dispute.
Sources said that Premadasa had claimed that it was Wickremesinghe, who had brought Lal Perera to the Jathika Sevaka Sangamaya and then given him an opportunity to contest the last presidential poll in January 2010 as an independent candidate. Premadasa had gone on to allege that Perera was asked to undermine Gen. Fonseka's campaign, though the UNP purportedly threw its weight behind the  former army commander, sources said.
Wickremesinghe didn't respond to Premadasa's allegations.
Premadasa recently secured the post of Co-Deputy Leader and Deputy Opposition Leader after reaching an understanding with the leadership, though a fresh battle erupted over the denial of the post of the National Organiser to Madduma Bandara.
The Wickremesinghe camp said that the Premadasa faction should take the blame for causing the latest altercation. Responding to a query by The Island, sources said that Lal Perera had targeted Dr. Jayawardena at the behest of Premadasa, who was now making an attempt to undermine the party leadership. Sources said that a section of the electronic
media had telecast Lal Perera's statement slamming Jayawardena and his family.
Meanwhile, the Premadasa group was readying to call a public meeting at the Dr. N. M. Perera auditorium in Ruwanwella on June 4 to step up pressure on the leadership, sources said.
The dissidents will also hold meetings at Polonnaruwa, Anuradhapura, Galle and Matara over the next few weeks, with several leading Opposition MPs and activists pledging their support. Among those expected to address the gatherings are Premadasa, Dayasiri Jayasekera, Imthiaz Bakeer Markar, Buddhika Pathirana, Talatha Atukorale, Ranjith Madduma Bandara, Rukman Senanayake and Rosy Senanayake.
Courtesy: The Island
Latest Headlines in Sri Lanka