Ranil tells Opposition to pick no confidence motion or polls
Posted by Editor on June 11, 2015 - 8:27 am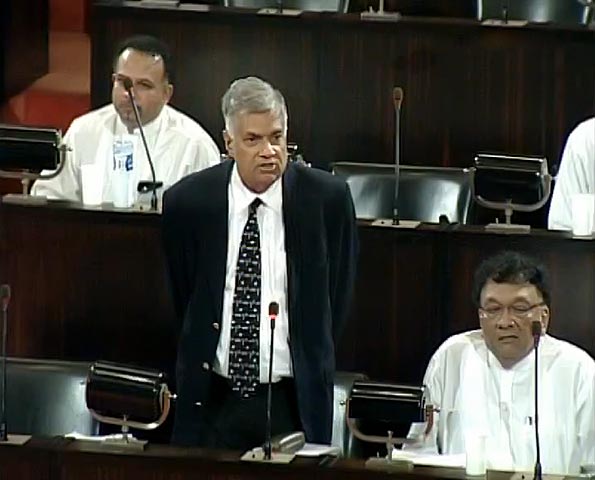 Prime Minister Ranil Wickremesinghe yesterday urged the Opposition to select between a no confidence motion or general election rather than pursuing both and constantly criticising the Government for exceeding its 100-day mandate.
Responding to a privilege issue raised by Opposition lawmaker Dinesh Gunawardena, the Prime Minister said: "When a no confidence motion is presented there are two options. The first option is to table it in Parliament and then debate it. The second option is to call for a general election. We all know that former President Mahinda Rajapaksa held an early presidential election in which he was defeated. We all got together and asked the public to elect Maithripala Sirisena from the SLFP as the new President and prevent Rajapaksa from ruling for a third term.
"In 2010, when former President Rajapaksa was elected for a second term, he wanted support to appoint a new Parliament, which is the current Parliament, with a public mandate. The people gave their decision on 8 January 2015 by taking away the mandate previously given to the former President. The new mandate was clear. If you want to go with the UPFA leader do that and avoid supporting President Maithripala Sirisena. We came here for 100 days and there is no question about that," Prime Minister said.
"On the evening of the day when the 19th Amendment was passed in this House, several UPFA members wanted to bring in the 20th Amendment and dissolve Parliament," Wickremesinghe added.So President Sirisena is following your request. What prevents you from going for a new election? We are ready for elections. You can't have both the Parliament and a no confidence motion. Decide your option. I have no issue with either of these two," Wickremesinghe added.
UPFA Parliamentarian Dinesh Gunawardena said: "We have handed over a no confidence motion against the Prime Minister. This document, which contains over 100 signatures, is in your custody and your decision to follow the Standing Orders of Parliament was expressed at a Party Leaders meeting held recently. Even though we hadn't decided to withdraw the document or its signatures, the Deputy Minister of Foreign Affairs, Ajith P. Perera, told the media of a plan initiated by the Opposition to do so. This statement is a serious violation of our privileges and it is bad for our country and Parliament, which will become a circus."
"There is no privilege over the issue Dinesh Gunawardena brought up in the House. Section 3 of the Parliamentary Powers and Privileges Act describes freedom of speech and the freedom to debate by saying, 'There shall be freedom of speech, debate and proceeding in Parliament and such freedom of speech, debate or proceedings shall not be liable to be impeached or questioned in any court or place out of Parliament'. The fourth section ensures freedom from arrest in civil proceedings, saying, 'No member shall be liable to any civil or criminal proceedings, arrest, imprisonment, or damages by reason of anything which he may have said in Parliament or by reason of any matter or thing which he may have brought before Parliament by petition, bill, resolution, motion or otherwise'. The rights that we enjoy here are the same as those in the House of Commons in the United Kingdom. Nowhere is it said that a statement or opinion is a breach of privilege."
(Source: DailyFT – FT.LK)
Latest Headlines in Sri Lanka